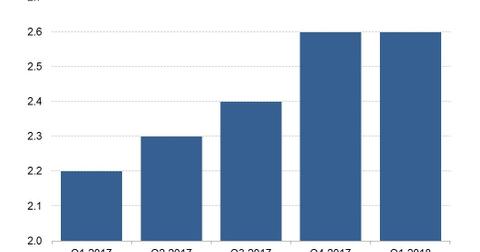 eBay Sees Weakness in Amazon's Strategy
By Neha Gupta

Updated
Third-party traders worried about Amazon competition
eBay (EBAY) sees a weakness in Amazon's (AMZN) business strategy that it wants to exploit. As Amazon expands its own line of private-label products, it is attracting more shoppers and spending as evidenced by its growing revenues. At the same time, Amazon is angering third-party traders who sell on its marketplace. The traders are worried about losing customers to Amazon, which has deeper pockets and powerful technologies to promote its own goods.
To hedge against the risk of competition with Amazon, about 80% of third-party traders on Amazon's marketplace have a presence on other marketplaces, according to recent findings by Feedvisor.
Article continues below advertisement
eBay says it doesn't compete with its sellers
The majority of Amazon traders are currently using eBay as an alternative marketplace. Walmart (WMT), Sears (SHLD), Shopify (SHOP), and Alibaba's (BABA) AliExpress are the other marketplaces where Amazon traders have product listings.
With traders and consumer-focused brands worrying about Amazon taking their customers, eBay is trying to present itself as the better option for brands looking to plug into third-party marketplaces to extend their online reach. "We don't compete with our sellers. That's very rare and very unique," eBay CEO Devin Wenig told analysts in April.
eBay hosts 6.0 million sellers in the US
eBay has attracted 6.0 million sellers in the US, exposing them to 171 million buyers globally. eBay's revenue jumped 12% year-over-year to $2.6 billion in the first quarter supported by gains in its core marketplace division.