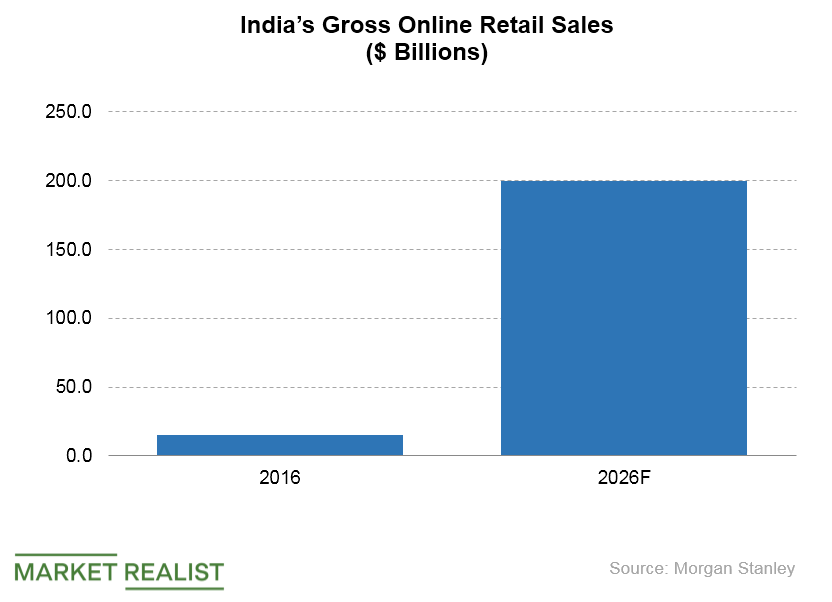 eBay India Relaunch: What's Happening?
By Ruchi Gupta

Nov. 20 2020, Updated 4:56 p.m. ET
eBay terminating brand licensing deal with Flipkart
eBay (EBAY) is making a U-turn in India. Last year, the company sold its Indian operations and licensed its brand to Flipkart in exchange for a minority stake in the rising star e-commerce company. Now the company has had a change of heart. It's selling its stake in Flipkart and taking back its brand to allow it to relaunch its operations in India.
The decision by eBay to relaunch operations in India comes after Walmart (WMT) agreed to acquire Flipkart in escalating competition with Amazon (AMZN) for control of the world's online retail industry. In India, a country of more than 1.3 billion people, competition is hot for consumers' online shopping budgets.
Article continues below advertisement
India presents $200 billion e-commerce opportunity
India's gross online retail sales are poised to grow to $200 billion by 2026, up from $15 billion in 2016, according to Morgan Stanley.
Amazon, one of the front-runners in India's rapidly burgeoning e-commerce industry, is investing more than $5.0 billion to grow in the country. Amazon's overseas retail sales grew 34% year-over-year to $14.9 billion in the first quarter.
eBay to face off with Flipkart and Alibaba-backed Snapdeal
Last year, eBay teamed up with Microsoft (MSFT) and Tencent (TCEHY) to raise $1.4 billion in additional capital for Flipkart. Now a showdown is looming between eBay and Flipkart. Alibaba (BABA), which also has significant interest in India's digital market, backs several e-commerce and mobile payment startups in India, including Snapdeal and PayTM.