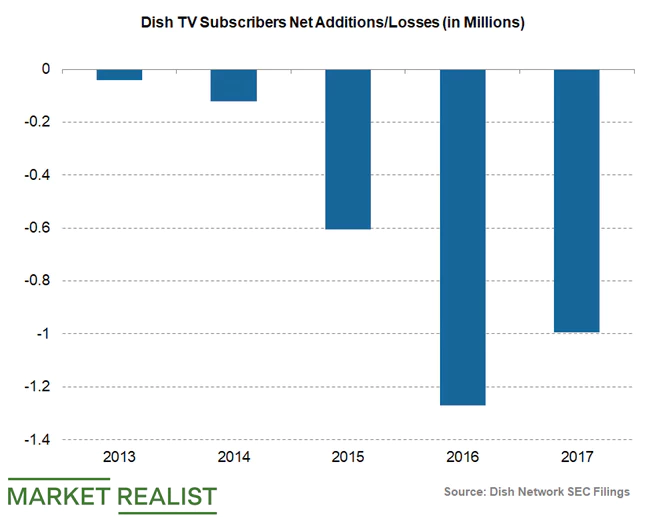 Dish Network Stock Rises after Sliding in May
Stock returns
Shares of Dish Network (DISH) rose over 10% to close at $32.08 in the week that ended on June 8. The stock has returned 7.6% in the last month and -50% in the trailing 12 months after falling 17% in 2017.
Dish Network stock is now trading 11.4% above its 52-week low of $28.8 and 52% below its 52-week high of $66.5. The stock seems to have risen in the last week after a fall of 12% in May and a fall of 11% in April.
Article continues below advertisement
Stock has fallen over 30% this year
Dish Network stock has fallen over 30% in 2018, but this could allow investors to purchase the stock at an attractive price point. In fact, Dish Network chair Charles Ergen purchased $2.9 million worth of Class A company shares on the open market at $29.37 each on May 31.
In the chart above, we can see that Dish Network has been losing TV subscribers year-over-year since 2013. The company lost over a million subscribers in 2016 and 995,000 subscribers in 2017. Traditional satellite TV companies are losing viewers and market share to online streaming companies such as Netflix (NFLX) and Amazon Prime (AMZN).
In 2017, Dish launched its online streaming service, Sling TV, which gained 700,000 subscribers and managed to offset the decline in its satellite TV subscribers. In Q1 2018, Dish Network's number of pay-TV subscribers fell 94,000 while Sling TV gained 91,000 subscribers.