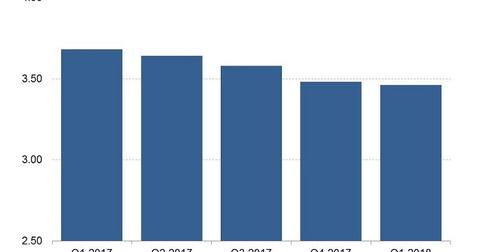 Dish Chairman Charlie Ergen's Huge Stock Purchase
By Ruchi Gupta

Updated
Insider bought 100,000 shares on the open market
Dish Network (DISH) co-founder and chairman Charlie Ergen bought a huge amount of the company's shares late last month in the largest insider stock buy in the company in years. Ergen purchased 100,000 Dish shares on May 31 for his personal account and spent more than $2.9 million on the transaction.
Ergen's purchase of 100,000 Dish shares was the largest insider stock buy in the company since November 2008, according to Barron's. Ergen's purchase suggests he's optimistic about the company's future.
Insider purchase followed downbeat earning results
Interestingly, the purchase came only a few weeks after the company reported first-quarter revenue that fell short of Wall Street estimates and profit that declined from a year earlier.
Dish released its first-quarter financial results on May 8. It reported less than $3.5 billion in revenue, down from revenue of $3.7 billion a year and below the $3.5 billion that analysts had expected. The company earned a profit of $368 million or $0.70 per share, above the $0.69 that analysts expected but below the $0.76 reported a year earlier.
Dish shed 94,000 pay-TV customers
Like Comcast (CMCSA), Walt Disney (DIS), and AT&T (T), Dish is struggling to keep subscribers in its flagship pay-TV service delivered via satellite. Netflix (NFLX), Amazon (AMZN), and Hulu have popularized a form of video entertainment delivered over the Internet, which is causing traditional cable companies to lose customers. About 94,000 Dish pay-TV customers canceled their subscriptions in the first quarter.