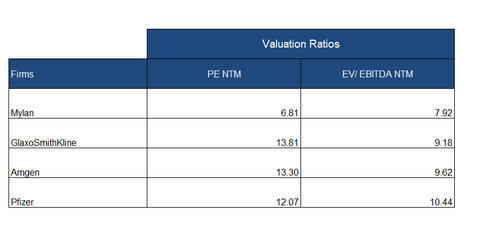 Discussing Mylan's Valuation in June: Is the Stock Undervalued?
By Sarah Collins

Updated
Mylan's valuation
Mylan (MYL) is one of the leading generic pharmaceutical companies in the world. The company offers over 7,000 products and has positioned itself as a global healthcare company that's registering strong growth in Europe and developing markets.
However, Mylan has been facing certain troubles recently, and it posted disappointing first-quarter earnings results on June 5. The company reported sales of $2.7 billion and adjusted EPS of $0.96 in the quarter. It affirmed its 2018 guidance during its earnings release. Let's look at Mylan's valuation metrics as of June 26.
Forward PE
One of the most widely used valuation metrics is the forward PE multiple. It's calculated by dividing the current share price of a stock by its expected EPS over the next 12 months. The metric represents the worth of a unit of expected next-12-month earnings as per investors.
On June 26, Mylan was trading at a forward PE multiple of ~6.81x, whereas the industry average was 14.7x. Its peers GlaxoSmithKline (GSK), Amgen (AMGN), and Pfizer (PFE) had PE multiples of 13.8x, 13.3x, and 12.1x, respectively.
Forward EV-to-EBITDA multiples
Mylan's forward EV-to-EBITDA (enterprise value-to-EBITDA) multiple is ~7.92x, lower than the industry average of ~11.1x. Its peers GlaxoSmithKline, Amgen, and Pfizer have forward EV-to-EBITDA multiples of 9.2x, 9.6x, and 10.4x, respectively.
As per these valuation multiples, Mylan seems to be undervalued at this time. The company has a number of key product launches expected in 2018, which will drive its sales and earnings growth. Further, the company is making investments in Europe and emerging markets, which have been registering growth in recent quarters. 
Investors should consider the various risks Mylan has been facing recently, including supply issues, pricing pressures, competition, loss of exclusivity for certain products, and the macroeconomic environment.
In the next article, we'll look at Mylan's stock price performance.