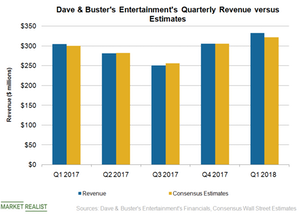 Dave & Buster's First-Quarter Revenue Rose over 9%
By Victoria Dean

Updated
Revenue rises on new store openings
Driven by new store openings, Dave & Buster's (PLAY) first-quarter revenue grew 9.2% to $332.2 million. Revenue was up 9.7% in the first quarter on a comparable basis. The calendar shift negatively impacted revenue by $1.4 million in the first quarter.
Non-comp store sales were $74.5 million compared with $30.4 million reported in the first quarter of fiscal 2017 on a comparable basis. Dave & Buster's opened six new stores in the first quarter.
During the first-quarter earnings conference call, management stated that it opened three more stores in the second quarter and had another five stores under construction, which means the company is on track to achieve the targeted 14–15 openings for fiscal 2018. The targeted store openings also include two smaller format (17,000 square feet) stores, nine 60,000-square-foot stores, and another two stores that are around 30,000 feet and 40,000 square feet.
Segment details
The Food and Beverage segment witnessed a 7.7% increase in revenue to $139.8 million. The company is testing new products (chicken and steak) to be added to its menu and has established new leadership for the segment. The company is also working on improving the guest experience by speeding up its services.
The Amusement and Other segment reported revenue growth of 10.4% to $192.4 million. The company remains focused on adding more games to its portfolio. In the first quarter, the company unveiled two new games: Rampage and Tomb Raider. In addition to the planned launch of its first virtual reality title in June, Jurassic World VR Expedition, the company is preparing for the release of a second VR game towards the end of 2018. The company also collaborated with Microsoft (MSFT) for an exclusive arcade game named Halo: Fireteam Raven, which is slated for release in the third quarter.
Comps falter
Dave & Buster's posted a 4.9% decline in comparable store sales. First-quarter comps were negatively impacted by a 6.4% decline in special events sales and a 4.8% decrease in walk-in sales, according to the company. Segment-wise, the Food & Beverage segment comps were down 6.1%, while Amusement and Other segment comps declined 4%.
Outlook
Dave & Buster's now expects revenue to increase $1.20 billion–$1.24 billion in fiscal 2018. On a comparable 52-week basis, revenue is expected to be up 7% to 11%. Comps on a comparable basis are projected to decline in the low-to-mid-single digits.