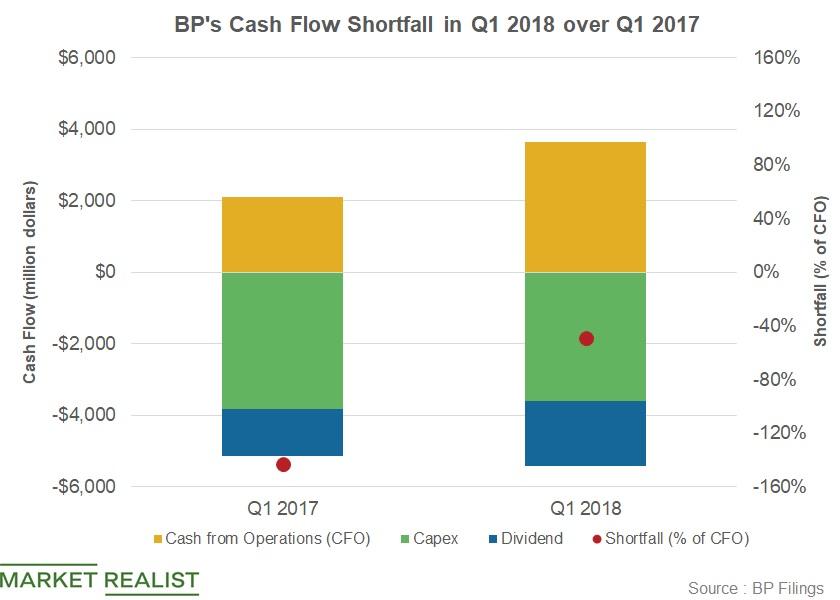 Could BP's Cash Flow Position Improve?
BP's cash flow position
In the first quarter, BP's (BP) cash flow from operations rose 72% YoY (year-over-year) to $3.7 billion, and its cash outflow from investing was flat YoY at $3.8 billion. BP's cash outflow from financing stood at $3.4 billion, against a cash inflow of $1.8 billion in Q1 2017.
Article continues below advertisement
How BP funded its shortfall
In the first quarter, BP produced $3.7 billion in cash from operations. However, it had a cash outflow of $3.6 billion in the form of an additions to plants, property, and equipment, and $1.8 billion in the form of dividends, adding up to $5.4 billion of cash outflow. This total resulted in a cash flow shortfall of $1.7 billion (the difference between cash inflow of $3.7 billion and cash outflow of $5.4 billion). Plus, BP repaid around $1.4 billion in debt in the first quarter.
BP funded the shortfall and debt repayment with cash reserves. BP's cash reserves fell from $25.6 billion at the beginning of the first quarter to $22.2 billion at the end of the first quarter.
What does BP's cash flow reveal?
Although BP had a cash flow shortfall in the first quarter, it fell YoY from 143% to 49%—a significant improvement. Also, despite its shortfall, BP has repaid some portion of its debt, reiterating its commitment toward improving its debt position, a positive sign.
Furthermore, with its expected rise in earnings this year, BP's cash flow from operations could improve, reducing its cash flow shortfall or switching to a cash flow surplus. If BP is able to switch its cash flow position to a surplus during the year, its financial situation could improve significantly.