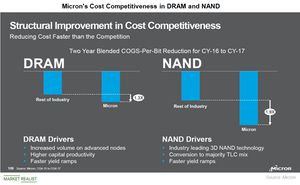 Cost Competitiveness Is Key to Micron's Success
By Puja Tayal

Updated
Micron's new strategy
The memory market is undergoing structural changes, and so is Micron Technology (MU). In May 2017, SanDisk cofounder Sanjay Mehrotra became Micron's CEO and brought his SanDisk team with him to create a new Micron.
At the company's 2018 Investor Day, Mehrotra outlined his strategy for the new Micron, which is based on five pillars: cost competitiveness, execution excellence, high-value solutions, customer focus, and talent and culture. Let's see how Micron plans to achieve these five pillars.
Article continues below advertisement
Cost competitiveness
In the oligopoly memory market, which is governed by Samsung (SSNLF), SK Hynix, and Micron, cost competitiveness gives a company pricing power. Samsung is the leading memory player because it has the lowest costs and the highest market share. Because memory is a commodity and price is largely determined by demand and supply, the entire burden of profit falls on the cost of goods sold (or COGS).
DRAM cost
Two years ago, Micron lagged behind Samsung and SK Hynix in terms of DRAM (dynamic random-access memory) technology. Over these two years, Micron invested in advanced nodes and accelerated the transition time to bring smaller nodes on time to achieve cost competitiveness, helping it to lower its DRAM COGS 30% more than the industry, thereby reducing its cost gap with Samsung and increasing its DRAM gross margin as high as 66% in the fiscal second quarter.
NAND cost
On the NAND (negative AND) front, Micron overtook its competitors and achieved cost leadership in 2017 by transitioning to 3D NAND and accelerating its production ramp in collaboration with Intel (INTC). Over the last two years, Micron has reduced its NAND COGS 90% more than the industry. It expanded its NAND gross margin to as high as 49% in its fiscal first quarter.
While focusing on cost competitiveness, Micron is also maintaining its execution excellence. We'll look into this in the next article.