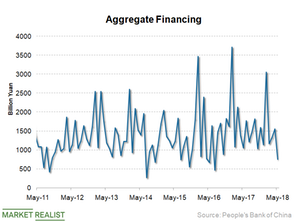 China's Credit Growth Shrank Again in May: What Does It Mean?
By Anuradha Garg

Updated
Aggregate financing shrinks
Aggregate financing in China (MCHI), which reflects the total funds provided by a financial system to its non-financial sectors and households, slumped significantly in May compared to the previous month. The financing stood at 761 billion yuan in May, from ~1.56 trillion yuan in April. It also missed economists' expectations of 1,300 billion yuan, which is most likely due to China's deleveraging drive.
New yuan loans
Along with China's aggregate financing, new yuan loans also shrank in May. They came in at 1.15 trillion yuan in May, compared to 1.18 trillion yuan in April.
M2 money supply growth
The M2 money supply, which includes cash, checking deposits, savings deposits, money market mutual funds, and other time deposits, grew 8.3% in May, which is the same as April.
China's deleveraging drive has started to have an effect. While credit tightening is important to curb the bubble in assets in the economy and tame debt, some market participants believe it has started to hit China's growth. A sustained slowdown might be productive for the economy, but cutting credit growth steeply might have negative effects on the economy as a whole and particularly the sectors with higher dependence on credit, such as property. Slower credit growth, in turn, could also mean lower demand for steel and iron ore, which could be negative for raw material suppliers (XME) and steel mills Rio Tinto (RIO), BHP (BHP)(BBL), Vale (VALE), and Cleveland-Cliffs's (CLF) Asia-Pacific division.