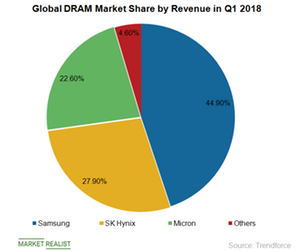 China Probes Micron, Samsung, SK Hynix on DRAM Pricing
By Puja Tayal

Updated
China probes DRAM chipmakers
Micron Technology (MU) stock fell 8% at the end of May due to negative noise surrounding the stock. One negative was the probe from its largest market, China (MCHI).
According to a Reuters article, China's State Administration for Market Regulation launched a probe against the three DRAM (dynamic random access memory) manufacturers—Samsung (SSNLF), SK Hynix, and Micron Technology—which together control more than 95% of the DRAM market. Reuters, citing a source familiar with the matter, stated that the three chipmakers have been accused of fixing DRAM prices, which have been rising for the past 18 months.
The stocks of the three companies didn't react much to the news since it didn't come as a surprise. Signs of a potential probe appeared late last year when several Chinese state media reports stated that Samsung has been approached by regulators about rising DRAM prices. Officials visited the offices of all three companies in early June.
DRAM sector prone to regulatory probes
The probe is not a new thing for the DRAM market. Since DRAM is an oligopoly market governed largely by only three suppliers, it is prone to regulatory probes over possible price fixing. In April, Samsung, SK Hynix, and Micron Technology faced a class action lawsuit by US consumers, alleging that the three companies planned an increase in DRAM prices.
The three companies also faced a series of complaints from consumers when high DRAM prices affected their profits. Lenovo, Cisco Systems (CSCO), HP (HPQ), and Apple (AAPL) reported a decline in profit margins because of high memory prices.
The Chinese government is the latest to complain about higher prices. Since China is a large market for memory chips, all the companies are taking its probe seriously.
Next, let's see why China launched the probe against DRAM chipmakers.
Check out all the data we have added to our quote pages. Now you can get a valuation snapshot, earnings and revenue estimates, and historical data, as well as dividend information. Take a look!