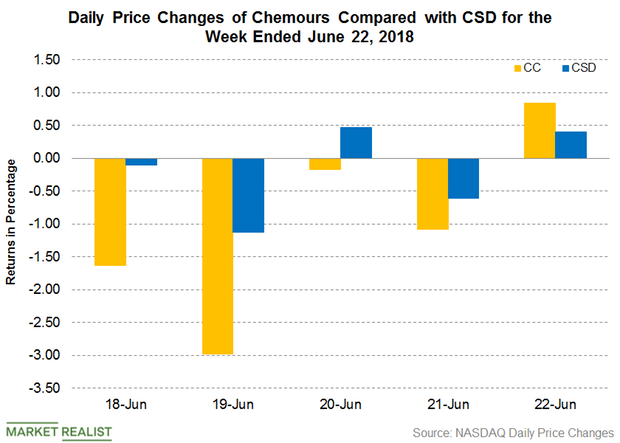 Chemours Increases Prices of Vazo Products
By Peter Neil

Jun. 26 2018, Updated 11:07 a.m. ET
Chemours increases Vazo prices
On June 18, Chemours (CC) announced that it would increase the prices of all grades of Vazo products. Vazo, a free radical source, is used in the production of polymers and copolymers. The prices of Vazo products are expected to be increased up to 15.0%. This increase is expected to be effective on July 1 or as the contract allows. The prices across the region are expected to be impacted.
Although Chemours didn't cite any specific reasons for the price increase, it could be due to increased raw material costs. However, this increase is expected to bring positive growth to CC.
This price increase could help the company's revenue growth if its volumes don't drop. The impact of the price increase is expected to be visible in the third quarter. Chemours reported first-quarter revenues of $1.7 billion, implying 20.0% year-over-year growth.
Article continues below advertisement
Update on Chemours' stock price
For the week ended June 22, Chemours' (CC) stock price declined ~5.0% and closed at $47.00. The decline in its stock price resulted in Chemours trading 5.2% below the 100-day moving average price of $49.58, indicating prevailing weakness in the stock. On a YTD (year-to-date) basis, Chemours stock has declined 9.2%. Among its peers, W.R. Grace (GRA) has gained 4.3% while Tronox (TROX) and PPG Industries (PPG) have declined 2.5% and 9.8%, respectively.
Analysts are bullish on Chemours (CC) stock and have maintained a target price of $62.85. This recommendation implies a return potential of 33.7% over its June 22 closing price of $47.00. Chemours' 14-day RSI (relative strength index) of 33 indicates that the stock is close to moving into an oversold position on a temporary basis.
Chemours underperformed the PowerShares S&P Spin-Off Portfolio ETF (CSD), which declined 1.0% for the week. CSD invested 3.0% of its portfolio in Chemours on June 22.