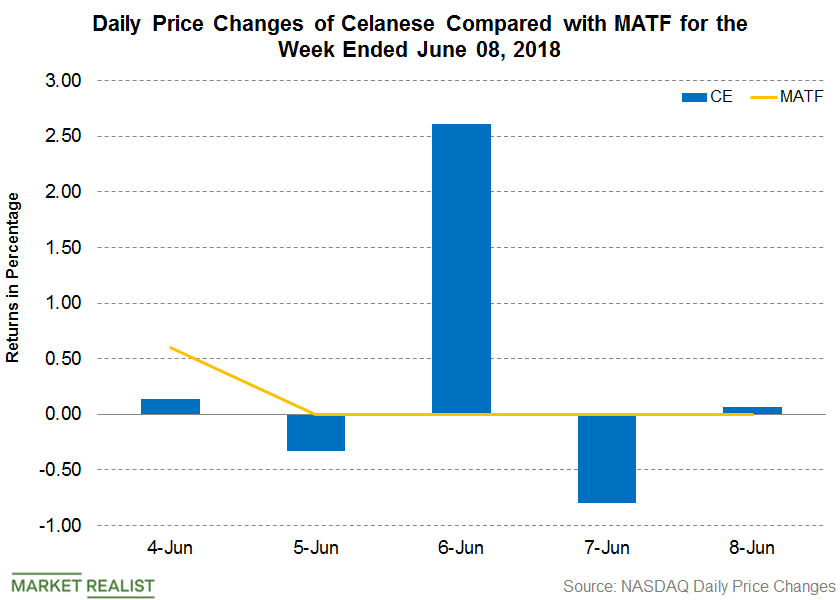 Celanese Shuts Down Acetate Tow Facility in Ocotlan, Mexico
By Peter Neil

Jun. 12 2018, Updated 9:03 a.m. ET
Celanese closes acetate tow plant in Mexico
On June 6, Celanese (CE) announced that it had completed the shutdown of its acetate tow plant in Ocotlan, Mexico. This action was part of CE's global consolidation of its acetate manufacturing plants, and it's expected to help CE reduce its fixed costs. 
The approximately 200 employees working in that plant were unaffected by these actions. However, the plant is expected to operate until the fourth quarter to facilitate a smooth closure. The plant was producing 52,000 tons of acetate flake and 20,000 tons of acetate tow.
Article continues below advertisement
Celanese noted that the closure isn't expected to impact its acetate tow business, as it plans to meet customer demand through the facilities in Lanaken, Belgium, and Narrows, Virginia. The company's joint venture facility in China is expected to contribute as well. The demand for acetate tow is on a declining trend.
Marcel van Amerongen, vice president of Celanese's Cellulose Derivatives business, noted, "As Celanese has discussed over the last many months, the global business environment for acetate tow products is challenging. Global demand for acetate tow is declining, and for the foreseeable future we are not projecting improvements in this business environment. The acetate tow business is an important one for Celanese and we are taking the strategic steps needed to ensure success in the future."
Stock price update
Celanese (CE) stock gained ~1.7% and closed at $117.11 for the week ended June 8. These gains helped Celanese trade 9.3% above its 100-day moving average price of $107.10, which indicates prevailing bullishness in the stock. 
On a YTD (year-to-date) basis, CE stock has gained 6.9%. Its peers LyondellBasell (LYB), Westlake Chemical (WLK), and Eastman Chemical (EMN) have gained 7.0%, 10.5%, and 17.7%, respectively, YTD. Celanese's 14-day relative strength index score (or RSI) of 59 shows that the stock is neither overbought nor oversold.
Investors could hold Celanese indirectly through the iShares Edge MSCI Multifactor Materials ETF (MATF), which had 4.2% exposure to Celanese on June 8. MATF fell 0.6% for the week.