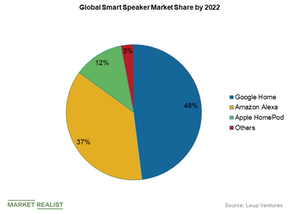 Can Apple's Voice Assistant Get a Boost with Siri Shortcuts?
By Sophia Nicholson

Updated
Siri Shortcuts
Apple (AAPL) is making efforts to push users to use its voice assistant, Siri, as Siri reportedly can't get an edge on Alphabet's (GOOGL) and Amazon's (AMZN) voice assistants, probably because Apple didn't use user data as much as its rivals.
Accordingly, Apple has announced a new app called Siri Shortcuts, which will allow iOS users to combine actions and routines with voice commands. In fact, users can talk to Siri not only in their iPhones but on Apple Watch and HomePod too. Moreover, the company announced that developers could connect any app to Siri. The company reported that the updated iOS 12 software will also give users Siri's Suggestions in various locations. Apple plans to put the feature on the lock screen.
Article continues below advertisement
Amazon's lead in IoT
Amazon entered the smart speaker market with its Alexa-powered Echo devices in 2014, while Google Home devices were launched in 2016. Apple forayed into the home speakers market with its HomePod in February 2018 in the US, UK, and Australia markets.
Amazon has a massive lead over competitors Google and Apple in the area of IoT (Internet of Things), especially in the case of home automation devices. Apple's HomePod is good for its sound quality. However, it is not competitive against Amazon's or Google's devices, as it does not support some essential features, does not have additional language versions, and has a very high price.
Google's voice assistant is growing and gaining market in the home automation market, presenting fierce competition to Amazon. Google has been trying to improve its hardware and has been licensing Google Assistant to different manufacturers.
In fact, according to Loup Ventures, the global smart speaker market is likely to be dominated by Google Home in 2022 with a 48% share, followed by Amazon's Alexa and Apple HomePod with market shares of 37% and 12%, respectively. In the US market, Apple and Facebook (FB) are also struggling for home speaker market amid the dominance of Amazon and Google.