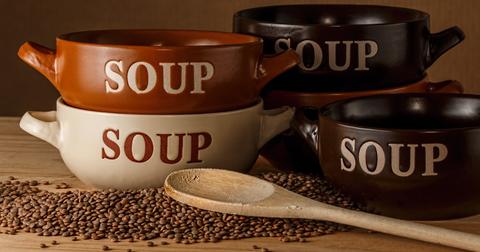 Campbell Soup Stock is Soaring on Kraft Heinz's Interest
By Amit Singh

Updated
Kraft Heinz could acquire Campbell Soup
Campbell Soup stock (CPB) soared more than 9.5% this afternoon as the New York Post reported that Kraft Heinz (KHC) is "very interested" in acquiring the beleaguered soup company. The news comes as Campbell Soup's strategies and portfolio are under scrutiny and management is looking for ways to turn its business around. The report added that a strategic review announced by the company's management could include a possible sale or split of its operations. Moreover, General Mills (GIS) could emerge as another potential bidder.
Campbell Soup has been struggling.  The company's soups and beverages segment continues to underperform, and the much-hyped Fresh segment failed to have a meaningful impact on financials amid operational challenges. CEO Denise Morrison's abrupt exit and industry-wide cost pressure remain a drag as well.
On the other hand, analysts don't seem to have a consensus on the deal. According to a Bloomberg report, Wells Fargo and Goldman Sachs analysts don't see Campbell Soup a strategic fit for Kraft Heinz. Conversely, J.P. Morgan sees profit accretion from the deal and called it a gateway to larger future deals.
Kraft Heinz is known for its strong history of acquiring renowned brands with strong growth prospects. Analysts remain upbeat on Kraft Heinz stock and expect that the company is looking for a major acquisition target, which is expected to accelerate its sales and earnings growth. Shares of Kraft Heinz were trading in the green this afternoon.