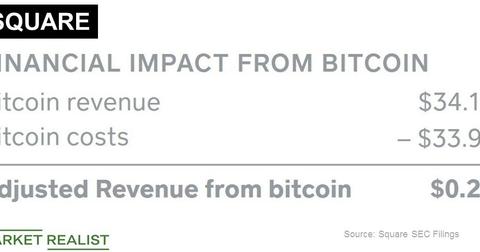 Bitcoin: A Source of Internal Tension for Square
By Neha Gupta

Updated
Bitcoin, a dividing factor
Square's (SQ) move to facilitate bitcoin buying and selling on its network was resisted by some company executives, and bitcoin remains a source of internal tension. In January, Square rolled out the ability to buy and sell bitcoin to all users of its consumer cash transfer app. That followed a period of testing that began last year. But Square's venture into the bitcoin exchange business caused internal disagreements, according to what Square's CEO Jack Dorsey said at a cryptocurrency conference last month.
"There is still a lot of skepticism, and still a lot of debate and disagreements and fights," Reuters quoted Dorsey saying in relation to bitcoin tensions within Square. The disagreements over Square's bitcoin direction escalated to the board of directors.
Dorsey's Twitter banned bitcoin ads
Although Dorsey says he's a huge fan of bitcoin and cryptocurrencies, sometimes his official roles put him in a collision course with the cryptocurrency world. At Twitter (TWTR), where he is also the CEO, Dorsey has largely given bitcoin and other cryptocurrency products a wide berth. Twitter, Facebook (FB), and Google (GOOGL) have restricted cryptocurrency advertisements on their platforms. Chinese Internet giants Alibaba (BABA), Tencent (TCEHY), and Baidu (BIDU) don't allow cryptocurrency products to be advertised on their platforms.
Bitcoin brought in $34 million in revenue for Square
Despite Square's internal tensions over bitcoin, the company's bitcoin exchange business generated substantial revenue in the first quarter. It made $34.1 million in revenue from facilitating bitcoin trading on its Cash App.