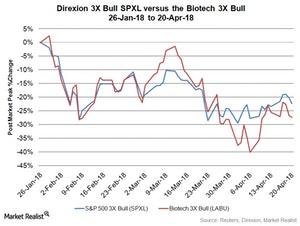 Biotech Sector Continue to Dazzle Despite Market Distress
By Direxion

Updated
Direxion
Biotech should be volatile, and it was
Biotech stocks—with their binary outcomes and potential FDA approvals or denials—should whip around, pending various outcomes. But the Biotechnology GICS Level 3 sector is even whippier than usual, down over 5% this year while falling 20% from peak to trough. Really, these are smaller stocks, more easily put in the "risk on" or "risk off" category, and they amplify market moves significantly. It doesn't help that President Trump (seemingly at random) decides periodically that we all pay too much for drugs. Earnings, again, are not much help here because investors want to hear about drugs' success or failure. Plus, the stocks really will likely outperform in another risk-on period. The companies don't have a lot of earnings, so the tax bill didn't necessarily help either.
For biotech stocks to work on the long side investors' risk appetite would have to take off or a major approval could drive the stocks up. Take a look below at how much they outperformed and underperformed the S&P500 over such a short timeframe. Whichever way you go, look out for the LABU (3x Bull) Biotechnology or the LABD (3x Bear) Biotechnology ETFs from Direxion.
Past performance is not indicative of future results. For standardized performance of LABU please go to http://www.direxioninvestments.com/products/daily-sp-biotech-bull-3x-shares
Market Realist
How did healthcare do in 2017?
In the first half of 2017, the healthcare sector tumbled with fears of President Trump's plans of reviving the industry. He mentioned creating new bidding procedures for the drug industry. After he was sworn in, he announced the repeal of the Affordable Care Act (or ACA). However, the new administration hasn't come up with anything to replace the ACA.
The tax bill that the president passed was a boon for many biotech stocks, though. A report by Motley Fool in February stated that after the tax reform passed, big biotech stocks like AbbVie (ABBV) expected to benefit by bringing a substantial amount of overseas cash back home. The company also announced that it would focus on investing $2.5 billion in capital projects over the next five years domestically. AbbVie stock has gained 57% since the elections. Other biotech stocks, like Juno Therapeutics (JUNO) and Bluebird Bio (BLUE), also saw their stocks sliding up since the elections. The healthcare sector is expected to show strong momentum in 2018, led by biotech and pharmaceutical stocks.
What could benefit the biotech stocks?
The prices for biotech stocks highly depend on the success and failure of a clinical trial or approvals by the FDA (Food & Drug Administration). Earnings don't have much to do with stock prices. Biotech stocks gained last year on the back of tax reforms and mergers and acquisitions.
Despite the market's wild ride over the last few months, the S&P Biotechnology Select Industry Index has gained 55.2% since the elections and ~5% YTD in 2018. The S&P 500 Healthcare Sector has also increased 20.6% since elections while declining ~1% YTD in 2018, as the chart above shows.
Whether or not earnings season drives the biotech sector, Direxion offers you choices with the Direxion Daily S&P Biotech 3X Bull (LABU) and the Direxion Daily S&P Biotech 3X Bear (LABD) ETFs.