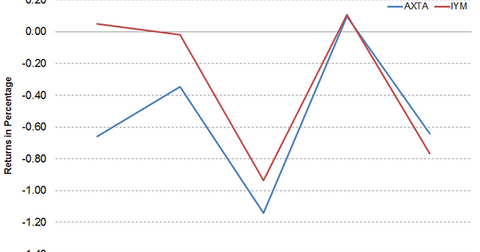 Axalta Launches Spies Hecker Permacron 257
By Peter Neil

Updated
Axalta's Spies Hecker to boost body shop productivity
On June 14, Axalta (AXTA) announced the launch of Spies Hecker Permacron 257. Spies Hecker has been Axalta's global refinishing brand since 1882. The product reduces the painting process and increases body shop productivity by decreasing material demands and reducing energy. The product is resistant to weathering and chemicals. The product is available in all of the colors in the automotive industry. Spies Hecker can be mixed with Permacron MS and Permasolid HS hardeners.
Luis Espericueta, the refinish director for Axalta Mexico and Central America, said, "At Axalta we´re continuously working to create innovative products that help our customers boost productivity and their bottom line. Our Permacron line is designed to deliver savings in time and materials, while also offering the functional benefits of the Spies Hecker premium refinish system."
Axalta's stock price
On June 17, Axalta closed at $31.0 and declined ~2.7%. The iShares U.S. Basic Materials ETF (IYM), which held 1.1% in Axalta on June 15, also fell ~1.6% for the week and closed at $102.17. The decline in the stock price caused Axalta to trade 0.9% below its 100-day moving average price of $31.21. On a year-to-date basis, the stock has declined 4.2%. Sherwin-Williams (SHW), RPM International (RPM), and PPG Industries (PPG) have declined 1.9%, 2.3%, and 10.8%, respectively.
Axalta's 14-day RSI (relative strength index) of 42 indicates that the stock isn't overbought or oversold. An RSI of 30 and below suggests that the stock temporarily moved into the "oversold" position, while an RSI of 70 and above indicates that the stock temporarily moved into the "overbought" position.