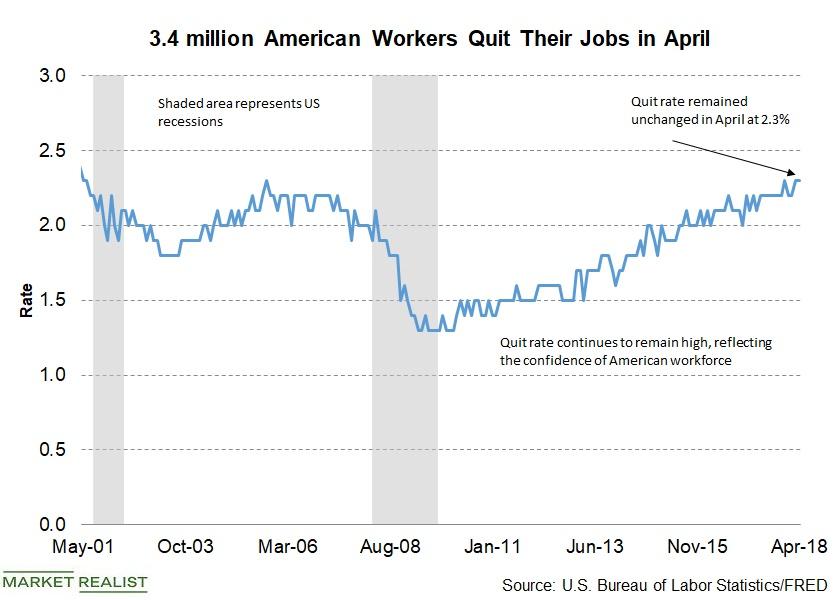 April Jobs Report: More Jobs Than Job Seekers
By Ricky Cove

Jun. 6 2018, Updated 2:20 p.m. ET
Hires and quits increased marginally in April
The April JOLTS (Job Openings and Labor Turnover Survey), reported on June 5, provides information on job openings and total separations. The total number of separations include layoffs, retirements, and voluntary quits.
According to the report, total separations for April were 5.4 million, which is 3.6% of the total workforce. Of those separations, the number of workers who quit voluntarily in April was 3.4 million, or 2.3% of the workforce. The higher quit rate is an indication that workers were confident that they could get a better job, which is a positive sign for the economy.
Article continues below advertisement
Net employment change in April
The difference between the number of separations and the number of hires is the net change in employment for the month. According to the Bureau of Labor Statistics, total hires in the last 12 months through April were 66.1 million, and total separations were 63.7 million, yielding a net employment gain of 2.4 million.
The number of hires has been increasing steadily with economic recovery in the last eight years. With a record number of job openings, we can expect net job additions to continue. April's JOLTS data indicate that there were only 0.9 job seekers for every job available. That's the first time since the inception of this economic series that the number of job seekers has fallen below 1.
Sector-based trends in hiring and firing 
At a sector level in April, there was a reduced pace of hiring in the wholesale trade sector, while retail (XRT) hiring rebounded 26,000 jobs. A positive takeaway from the survey was increased hiring in the construction (XHB) sector. The only negative was a decline in hiring in the manufacturing (XLI) (IYJ) sector.
There were 1.7 million workers laid off in April. The arts, entertainment, and recreation sector (PEJ) saw the highest layoffs of 51,000 employees, but that could reverse as summer hiring picks up and companies prepare for the holidays. Overall, the April JOLTS report signals a much tighter job market in the months ahead.