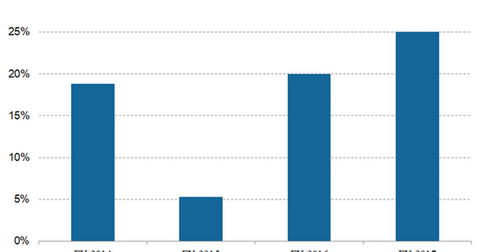 Apple's Push to Increase the Success of Its Content
By Sanmit Amin

Updated
Apple faces stiff competition in the streaming business
Apple's (AAPL) original content push has taken off lately with a number of high-profile signings, including a multiyear deal with Oprah Winfrey. However, assembling a star-studded lineup alone may not guarantee success for any streaming service.
Apple expects to face fierce competition from Netflix and Amazon (AMZN), which produce original content. Amazon produces original series such as The Man in the High Castle and The Marvelous Mrs. Maisel. Netflix produces original series such as House of Cards and The Crown. 
Apple has historically not made its products available for other operating systems, and it's not known how Apple plans to distribute its original content. However, if it makes its content available exclusively on its operating system, that may subdue its growth.
Apple: Looking at its competition
One feature that makes Netflix (NFLX) successful is releasing a show's entire season at once. This move allows viewers the luxury of choosing how to consume the content—all at once or gradually. Allowing viewers to binge-watch a series as soon as it's released could create the buzz required to bring more viewers on board.
Another factor in Netflix's success apart from its original content is the lack of ads. An ad-based subscription, which would reduce the subscription feeds, could be less attractive to viewers who wouldn't mind paying a few extra dollars per month for an ad-free version.
Apple (AAPL) is expected to launch its streaming service early next year, as the tech giant is seeking a way to diversify its revenues away from iPhones. Currently, iPhones dominate the company's total revenues.