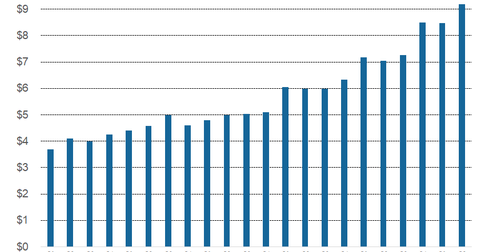 Apple Services Business Drove Revenues in Q2 2018
By Adam Rogers

Updated
Services business revenues rose more than 30% in fiscal Q2 2018
In the chart below, we can see how Apple's (AAPL) Services segment's revenues have risen over the last few years. In fiscal 2014, the segment's revenues rose 18.8% to $19.0 billion, and its revenues rose 5.3% to $20.0 billion in fiscal 2015. Its revenues rose 20.0% to $24.0 billion in fiscal 2016 and 25.0% YoY (year-over-year) to $30.0 billion in fiscal 2017.
In the fiscal second quarter, Apple's Services revenues rose more than 30.0% to ~$9.2 billion. In the first six months of fiscal 2018, its revenues increased ~29.0% to $18.0 billion. Apple's Services business was as large as a Fortune 100 company by the end of the fiscal fourth quarter of 2017. At one point, it had overtaken Facebook's (FB) trailing-12-month revenues.
Apple's Services business was the company's only segment in the fiscal second quarter to report sequential revenue growth.
Best quarter for Services segment in fiscal Q2
During the company's fiscal second-quarter earnings call on May 1, Apple CEO Tim Cook stated, "Q2 was our best quarter ever for services and momentum there continues to be incredibly strong." 
He continued, "We had all-time record revenue from the App Store, from Apple Music, from iCloud, from Apple Pay and more, all of which are a powerful illustration of the importance of our huge active installed base of devices and the loyalty and engagement of our customers."
Apple attributed this increase in its Services revenues to a rise in paid subscriptions, which touched the 270.0 million mark, up from 100.0 million in the fiscal second quarter of 2017. The fiscal second quarter was the 12th consecutive quarter of YoY double-digit growth for Apple.