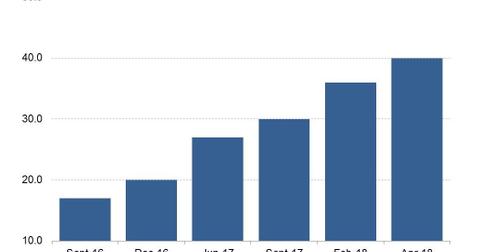 Apple: Curbing iPhone Overuse and Driving Sales
By Ruchi Gupta

Updated
Apple's business not based on addiction
In January, two institutional investors who collectively own about $2 billion worth of Apple (AAPL) shares wrote an open letter to the company's leadership about the overuse of Apple products. In the letter, investors urged Apple's management to do something about growing societal unease about addiction to technology products.
The investors called on Apple to consider creating tools that parents could use to control the time their kids spend on devices such as the iPhone. They argued that since Apple's business model is not based on excessive use of its products, the company could increase demand for its products if it provided tools for parents to curb their children's overuse of iPhones, for example.
The iOS 12 to introduce more parental control tools
In the iOS software update coming in the fall, Apple has provided more parental control tools to help curb the potential excessive use of its products and services, particularly among kids.
For example, the coming iOS 12 contains tools that parents can use to limit the number of apps their children can access on the iPhone and how much time they spend on apps such as Apple Music.
Apple Music, Apple's on-demand music service, offers a family plan. The service has attracted more than 40 million paying customers compared to Spotify's (SPOT) 75 million paying customers.
Brand reputation issue
The addition of digital products is becoming a reputational issue for brands. As a result, companies are moving to provide parents with tools to help them manage their children's screen time. Verizon (VZ), for example, has upgraded its package of parental control tools and has found a way to charge for some premium features.
Given the competitive pressure from Samsung (SSNLF) in the smartphone market and Google (GOOGL) in the services market, Apple could differentiate itself from the competition by simply helping to curb excessive consumption of digital products.