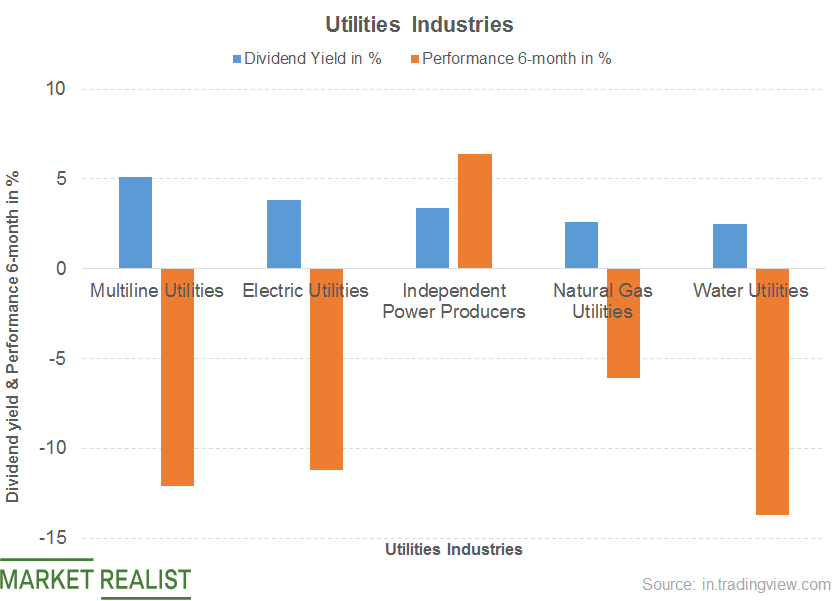 Analyzing the Utility Sector's Dividend Yield
By Amanda Lawrence

Jun. 8 2018, Published 2:58 p.m. ET
Utilities and energy
The utilities and energy sectors recorded dividend yields of 3.8%, partly enhanced by the price losses in the sectors.
In the utilities sector, Multiline utilities recorded the highest dividend yield. The dividend yields of the rest of the industries barring water utilities have also beaten the broad-based stock indexes. The industries under this sector and the top dividend payer in each industry are as follows:
Article continues below advertisement
All utility industries ended in the red on June 1. All industries except independent power producers generated negative six-month returns.
Going forward
Cleaner electricity sources, more options, decreasing power prices, and technological innovation have the potential to provide major boosts for the sector.
Dividend ETFs
The SPDR S&P Dividend ETF (SDY) offers a dividend yield of 2.4% at a PE of 20x. It has 15%, 15%, and 13% exposure to financials, consumer non-cyclical, and utilities, respectively. The WisdomTree U.S. Dividend Growth Fund (DGRW) offers a dividend yield of 1.8% at a PE of 20.3x. It has 22% and 0% exposure to technology and utilities, respectively.
We'll discuss the energy industries' dividend yield in the upcoming part of the series.