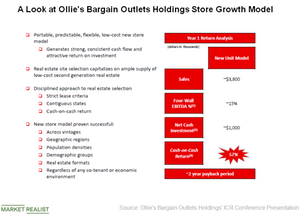 A Look at Ollie's Bargain's Roadmap for Future Growth
By Victoria Dean

Jun. 12 2018, Updated 5:30 p.m. ET
New store growth model
Ollie's Bargain Outlet Holdings (OLLI) is looking to boost its sales through new store openings. The company considers its new store growth model conducive to higher sales and cash flow. Moreover, this model also generates good returns on investment.
Per the company's latest annual report, its new stores (opened from 2012 to 2016) have generated $4 million in net sales in the first 12 months of operations. The company's average initial investment for the store opening (25,000 to 35,000 square feet), inclusive of store fixtures and pre-opening expenses, is pegged at $1 million.
Article continues below advertisement
In fiscal 2017, the company opened 34 stores, compared to 31 new stores in fiscal 2016. In the first quarter of 2018, it opened eight new stores, and it plans to open 36 to 38 stores this fiscal year. As of May 5, Ollie's had 276 stores in 21 states. The company estimates the potential of 950 stores across the United States over the long term.
The company generally looks out for second-generation real estate as a site for its new store locations. The company has underscored that penetration in both new and existing markets has been relatively easy, as there's no shortage of low-cost second-generation real estate, given the disruption witnessed in the retail sector.
To maintain the steady supply to the stores, the company has set up two major distribution centers in York and Commerce. The company's two distribution centers can serve 375 to 400 stores.
The company is also investing in bettering its product offering by bringing more merchandise at great bargains to its store shelves. The company's motto of "good stuff cheap" is its biggest USP. It's also investing in marketing and advertising to increase brand awareness.
Loyalty program
The loyalty Ollie's Army program is another major growth catalyst. The company has over 9.3 million loyal members at the end of the first quarter. On average, loyalty members constitute 70% of the total sales for the company. The company is launching an Ollie's Army mobile app in the second quarter to help members keep tabs on their rewards. The company said it would also establish a tier system on the lines of one, two, or three-star generals. The ranking system will mean differentiated rewards and surprise offers based on individual members' spending levels.