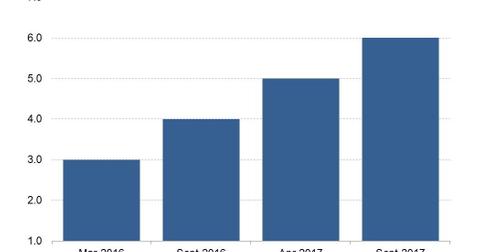 A Look at Facebook's Marketplace Advertising
By Neha Gupta

Updated
Advertisers must supply what they promise
Like Amazon (AMZN), eBay (EBAY), or Alibaba (BABA), Facebook (FB) runs an online marketplace, known simply as the Marketplace. Although Marketplace was initially intended as a platform for Facebook users to buy and sell from one another, it has expanded to include business sellers. Recently, Facebook moved to allow businesses to start advertising on Marketplace, opening another revenue opportunity for a company that is funded more than 90.0% by ads.
Facebook has introduced tools for users to leave feedback about businesses that advertise on its site. The idea is to hold businesses accountable when they mislead consumers into buying goods that don't measure up to the promises made in their ads.
Removing bad actors
"We spoke with people who have purchased things from Facebook advertisers, and the two biggest frustrations we heard were that people don't like ads that quote inaccurate shipping times or that misrepresent products," Facebook said in a statement on June 12.
A business can be banned from advertising on Facebook if it receives too many complaints.
Curbing online fraud
Facebook, Google (GOOGL), and Twitter (TWTR) have already restricted the advertising of risky financial products such as cryptocurrencies. As a result, Facebook's move with seller review tools could further help the company increase trust in its services.
As online advertising providers like Facebook and Google have caught up to one another in the technology aspect of the business, they are looking for new ways to differentiate themselves—particularly by building user trust. There are more than 6.0 million active advertisers on Facebook's flagship social media network.