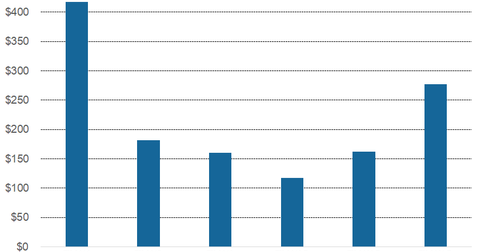 A Look at BlackBerry's Revenue and Profitability in Fiscal 2018
By Adam Rogers

Updated
Average revenue estimate of $967 million in fiscal 2018
We saw in the previous part of this series that analysts expect BlackBerry's (BB) revenue to fall ~13.7% YoY (year-over-year) in the fiscal first quarter of 2019. Its EPS is expected to decline from $0.02 in fiscal Q1 2018 to $0 in fiscal Q1 2019.
Analysts expect BlackBerry's revenue to fall 13% YoY to $216.6 million in the fiscal second quarter of 2019 and 8.3% YoY to $886.6 million in fiscal 2019. Analysts, however, expect its revenue to rise 10.4% in fiscal 2020 to $978.7 million.
BlackBerry's non-GAAP EPS is expected to fall 80% to $0.01 in fiscal Q2 2019. In fiscal 2019, its EPS is estimated to fall 57% to $0.06 and rise 150% to $0.15 in fiscal 2020.
Earnings and operating profit
BlackBerry's sales are expected to reach $1.1 billion in fiscal 2021. A rise in revenue in fiscal 2020 and fiscal 2021 could positively impact BlackBerry's margins as well. BlackBerry has pivoted to a software business model after exiting the smartphone business in 2016.
We've already seen that it reported record gross margins of 77% in the fiscal fourth quarter of 2018. It reported a positive operating income for the eighth consecutive quarter and positive EBITDA for the 15th consecutive quarter in fiscal Q4 2018.
In fiscal 2017, the company reported EBITDA of $182 million, down 56% YoY, while its operating profit rose to $55 million, up from -$142 million in fiscal 2016. In fiscal 2018, its EBITDA fell 12%, while its operating profit rose ~41%.
Analysts expect BlackBerry's EBITDA to fall 27% in fiscal 2019 and then rise 38% in fiscal 2020 and 71% in fiscal 2020. Its operating profit is expected to fall 71% in fiscal 2019 and then rise 300% in fiscal 2020 and 158% in fiscal 2021.