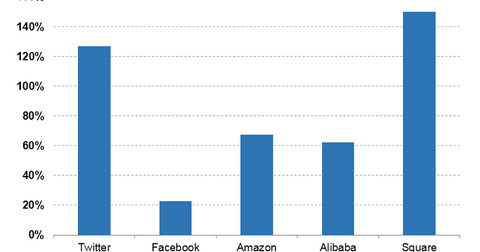 A Brief Survey of Twitter's Technical Indicators
By Neha Gupta

Updated
Shareholder returns and stock trends
Twitter (TWTR) has generated investor returns of 26.7% in the trailing-one-month period and 127.6% in the trailing-12-month period. The company's share price has risen 14.4% in the trailing-five-day period.
Peer companies Facebook (FB), Amazon (AMZN), Alibaba (BABA), and Square (SQ) have generated investor returns of 22.9%, 67.3%, 62.1%, and 149.8%, respectively, in the trailing-12-month period.
Article continues below advertisement
Moving averages
On June 7, Twitter closed the trading day at $39.70. Based on this figure, here's how the stock fared in terms of its moving averages:
28.1% above its 100-day moving average of $31
24.1% above its 50-day moving average of $32
13.4% above its 20-day moving average of $35
What amount of debt is Twitter carrying?
Twitter is carrying total debt of $1.8 billion, which is the sum of its short-term debt of $87 million and its long-term debt of $1.7 billion. Considering that the company has total capital of $7.0 billion, its total debt-to-total capital ratio comes to 25.8%.
Looking at the company's debt in relation to its assets, equity, and EBITDA, we'll find that it has debt-to-assets, debt-to-equity, and debt-to-EBITDA of 0.24, 34.7, and 3.31, in that order.
Article continues below advertisement
Twitter's cash flow numbers on focus
Twitter has $4.5 billion worth of cash in hand. Shares of Twitter are trading at price-to-cash flow and price-to-free cash flow multiples of 34.3x and 45.5x, respectively. For the last year, its EV-to-cash flow multiple was to 31.6x, and its EV-to-free cash flow multiple was 41.8x.
EBIT on interest coverage ratio
Can Twitter easily pay interest on its outstanding debt? The answer lies in examining the company's EBIT on interest ratio, also called its interest coverage ratio, which in this case is 5.8x.
As for debt on economic value, Twitter has debt on enterprise value of 7%.