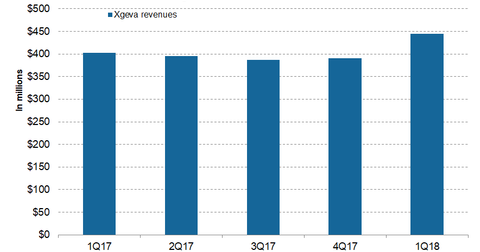 Xgeva Could Significantly Boost Amgen's Revenue Growth in 2018
By Daniel Collins

Updated
Xgeva's revenue trends
In 1Q18, Amgen's (AMGN) Xgeva revenue grew ~11% year-over-year to $445 million from $402 million. It grew ~14% quarter-over-quarter. In US and international markets, Xgeva reported revenue of $332 million and $113 million, respectively, compared with $298 million and $104 million in 1Q17.
Article continues below advertisement
Recent developments
In April, the European Commission approved the label expansion of Xgeva for the prevention of skeletal-related events in adults with advanced bone malignancies. The approval covers the use of Xgeva for the treatment of individuals with bone metastasis from solid tumors and multiple myeloma.
The EC approval was based on the results of Amgen's Phase 3 '482 trial, where Xgeva met its primary endpoint by demonstrating non-inferiority to zoledronic acid in delaying first on-trial skeletal-related events in individuals with multiple myeloma. The EC approval is set to allow unified labeling for all 28 countries of the European Union.
In January, the FDA also approved the label expansion of Xgeva for the same indication. The approvals are expected to boost Xgeva's revenue in 2018.
Xgeva (denosumab), a fully human monoclonal antibody, binds and neutralizes RANK (receptor activator of nuclear factor kappa-B) ligands, proteins required for the development, function, and survival of osteoclasts, which break down bone. Xgeva is also used for the treatment of individuals with giant-cell tumors of the bone. Xgeva's market peers include Novartis's (NVS) Zometa, Merck's (MRK) Cosmegen, and Pfizer's (PFE) Adriamycin.