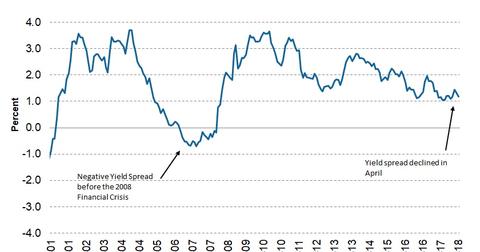 Will Yield Spreads Continue to Decline?
By Ricky Cove

Updated
Yield spreads continued to decline
The US bond markets remained under selling pressure as bond yields, especially at the short end of the curve, continued to shoot up, while the long-term yields remained subdued. Increased chances for a fourth rate hike after a series of strong economic data releases in March and April led to higher bond yields. The US Fed through its May post-meeting statement said that inflation would reach the 2% target soon, which was interpreted as a signal for a faster pace of rate hikes. An inverted yield curve, where short-term (SHY) yields are higher than long-term yields (TLT) is considered a warning sign for future recessions, and thus the yield spread has a place in the leading economic index.
Article continues below advertisement
Yield spreads used in the Conference Board leading economic index (or LEI)
The Conference Board Leading Economic Index (or LEI) in its economic model uses the yield spread between the ten-year Treasury bond (IEF) and the federal funds rate (TBF) as one of its components. The April LEI report indicated that this yield spread fell from 1.3 in March to 1.2 in April.
This credit spread has a weight of 11% on the leading economic index and in the April LEI report, the yield spread had a net positive impact of 0.13, or 13%. A flattening yield curve doesn't indicate a future recession. Only an inverted yield curve signals an impending recession.
The outlook for the yield spread
The divergence in economic performance between the US and other developed economies could be the driving factor for higher yields in the US. The US Fed is expected to continue tightening, while the EU, UK, and Japanese central banks are expected to continue with their loose monetary policy for the near future. The yield spread, on the other hand, could be impacted by inflation (TIP) expectations. At the moment, inflation growth has stalled, and if the Fed continues to tighten despite lower inflation, we can expect further flattening or even an inversion of the yield curve. In the next part of this series, we'll analyze the uptick in consumer expectations for business conditions in April.