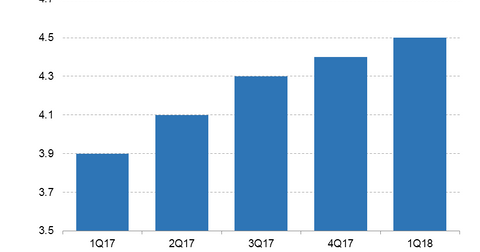 Will Twitter Close More M&A Deals This Year?
By Neha Gupta

Updated
Square acquired website builder Weebly
Twitter (TWTR) has been quiet in the M&A (merger and acquisition) market in recent years. According to Crunchbase data, Twitter closed its last M&A deal in 2016. In contrast, Square (SQ) has been busy making strategic acquisitions in recent years. As of the end of April, Square had closed three M&A deals. Square made one acquisition in 2017, adding to the two acquisitions it closed in 2016.
In April, Square acquired Weebly for $365 million. Weebly operates a platform for building websites and it has millions of customers globally. Weebly sells its services on a subscription basis, so its acquisition is viewed as Square pushing for recurring revenues.
Article continues below advertisement
Twitter and Square share a CEO
While Twitter is in the social media business, Square is into the payments and financial services business, where it is competing with PayPal (PYPL) and Amazon (AMZN) in processing payments for merchants and supplying loans to small businesses. Square has advanced over $1.8 billion in small business loans since 2014, while PayPal and Amazon have each advanced about $3.0 billion in small loans to customers.
Twitter and Square are run by the same chief executive officer, Jack Dorsey.
Could Dorsey replicate his M&A strategy at Twitter?
Could Square's acquisition strategy be replicated at Twitter in 2018? That could be a possibility, but we'll have to wait and see. However, Dorsey doesn't always bring his Square playbook to Twitter. For example, while at Twitter, Dorsey has joined Facebook (FB) and Google (GOOGL) in largely banning cryptocurrency advertising. At Square, he operates a cryptocurrency exchange, allowing customers to buy and sell bitcoin.
Twitter was sitting on $4.5 billion cash at the end of the first quarter.