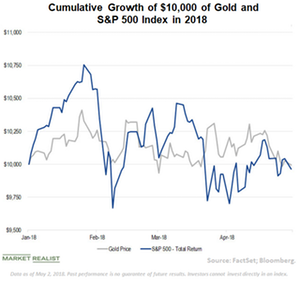 Why the RAAX Fund Is Bullish on Gold
By VanEck

Nov. 5 2019, Updated 1:57 p.m. ET
VanEck
Let's take a look at some of the reasons why RAAX maintains a bullish or bearish position on certain asset classes.
Article continues below advertisement
Gold
The model remains bullish, and overall exposure increased based on the portfolio diversification benefits that gold provides. Gold prices have been flat this year, but the precious metal has provided stability during periods of broad market stress.
Market Realist
The fund is bullish on gold
Gold is a safe haven investment
Gold (SGOL) has been trading in the range of $1,290 to $1,360 per ounce since hitting an 18-month high of $1,360 in January. Though gold prices are flat this year, it makes sense to hold on to gold as a pure play because of rising geopolitical and economic uncertainties. Gold is traditionally considered a safe haven investment in times of uncertainty.
Currently, the global economy is growing at a decent pace, but geopolitical and economic headwinds could derail the overall momentum. During periods of "stagflation," gold (DGL) could also serve as a hedge against inflation. "Stagflation" is when an economy experiences a sharp rise in inflation and unemployment amid slowing economic growth. According to Strategic Wealth Partners, the average return from gold during periods of stagflation was 85% while the average holding period return for the S&P 500 was 14%.