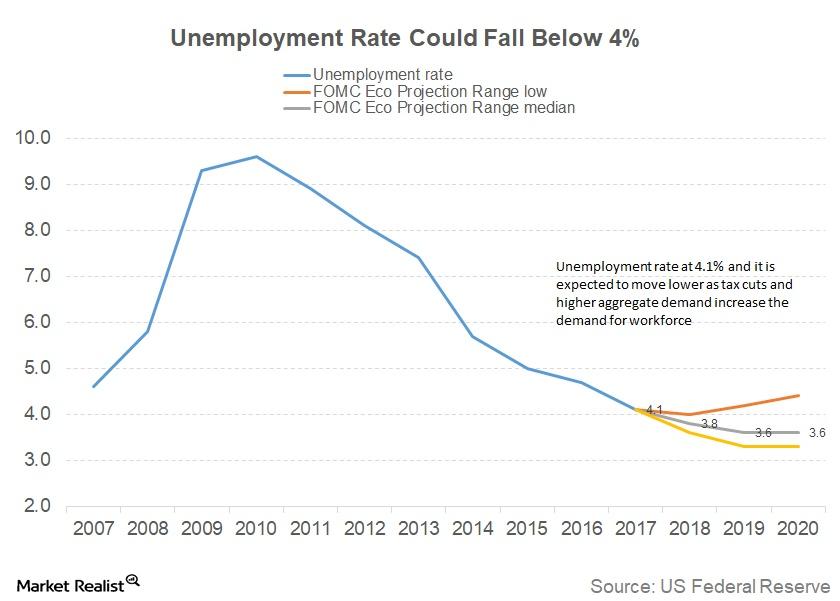 Why the Fed Expects the Unemployment Rate to Fall below 4%
By Ricky Cove

May. 7 2018, Updated 4:48 p.m. ET
Job market outlook remains strong
As part of its statutory mandate, the US FOMC seeks to foster maximum employment and stable prices (TIP). The unemployment rate peaked at 9.0% during the recession of 2007–2010 and has slowly decreased to a 17-year low of 4.1% in March. 
Improving economic conditions, favorable corporate tax rates, and a change in corporate tax expensing policy led to increased industrial (XLI) production. In turn, this led to increased job opportunities for workers. Falling unemployment rates along with solid inflation (CPI) growth could allow the US FOMC to continue with rate hikes in the near term.
Article continues below advertisement
The unemployment rate on track to meet FOMC member projections
The Summary of Economic Projections (or SEP) released after the March FOMC meeting indicated that the FOMC members expected a further decline in the unemployment rate. According to the SEP, the median unemployment rate for 2018 was projected to be 3.8%, and the median unemployment rate for 2019 and 2020 was projected to be 3.6%. Both metrics are much lower than the long-term US employment rate of 4.5%. 
The next SEP report is expected to be published after the June FOMC meeting, which could include a projection for a lower unemployment rate.
The outlook for US employment market
The FOMC expects US labor market conditions to remain strong. The latest employment report from ADP indicated that the US employment market could be overheating, which could lead to a shortage of skilled workers in the near future. 
A workforce shortage could lead to higher wages, which in turn would increase the inflationary (SCHP) pressures in the economy. The FOMC has a tough task ahead to balance inflation (VTIP) and unemployment, as both economic measures are expected to overshoot their long-run averages.