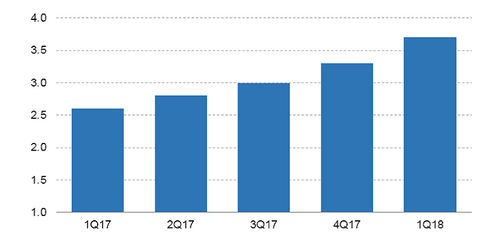 Why Netflix Prefers Debt Rather than Equity Financing
By Ruchi Gupta

Updated
$1.9 billion raised instead of $1.5 billion initially planned
Netflix (NFLX) recently raised $1.9 billion in additional capital through a debt offering in which it sold senior notes maturing in ten years. The company initially planned to raise $1.5 billion through a debt offering, but it decided instead to make a bigger sale, which suggests strong investor debt for its notes.
At $1.9 billion, Netflix made its largest dollar-denominated debt offering. Investment banks Morgan Stanley (MS), Goldman Sachs (GS), J.P. Morgan (JPM), Deutsche Bank (DB), and Wells Fargo (WFC) helped Netflix with the debt offering, which saw notes sold to qualified institutional investors.
Article continues below advertisement
Netflix's debt poised to rise
The latest notes sale is poised to increase Netflix's debt load, which was more than $6.5 billion on March 31. Netflix debt was less than $3.4 billion a year earlier and has increased steadily, as illustrated in the chart above.
Why does Netflix take on more debt when it already has significant outstanding borrowing? According to Netflix, debt provides a lower-cost way to raise additional capital compared to equity financing.
Netflix harvesting customers from struggling pay-TV industry
With a global audience of more than 125.0 million subscribers, Netflix is the world's largest online video provider. The company is benefiting from the cord-cutting trend, as households are abandoning traditional pay-TV plans for cheaper and more flexible online video services. Walt Disney (DIS) is responding to the pay-TV subscriber loss by launching its own online video services that go directly to consumers.