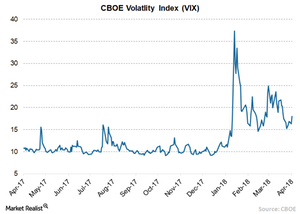 Why Markets Are Ignoring Gold Equities
By VanEck

Updated
VanEck
There are several reasons for the underperformance:
A lack of interest in safe-haven3 investments: While volatility has returned to markets this year, it has yet to reach worrying levels that might motivate investors to hedge their exposure. RBC Capital Markets reports the six-month trailing beta to gold of the VanEck Vectors® Gold Miners ETF has declined to 1.5x, compared to a historical average of 2.0x. The corresponding betas for the VanEck Vectors® Junior Gold Miners ETF is 1.7x and 2.2x, respectively. General investor apathy towards the miners was also evident at the BMO Global Metals and Mining Conference 2018 in late February. BMO commented anecdotally that institutional investor interest in precious metals was at levels last seen in the early 2000s, before gold's bull market.
3Safe haven is an investment that is expected to retain its value or even increase its value in times of market turbulence.
Article continues below advertisement
Market Realist
Lack of interest in gold mining stocks
A lack of interest in gold mining stocks could have come from the fact that broader stock markets haven't seen the kind of volatility that shifts investors' attention toward gold equities. The CBOE Volatility Index, a measure of stock market volatility known as markets' "fear gauge," has started declining after reaching a peak of 37.3 in early February. The VIX is currently hovering around 18 points and was relatively calm in 2017 as well.
Broader markets gained strength
As we discussed previously in this series, the NYSE Arca Gold Miners Index (GDX) and the MVIS Global Junior Gold Miners Index (GDXJ) were up 2% and 4.2%, respectively, over the past two years, compared to a 29.9% gain for the benchmark S&P 500 Index.
Consequently, investors didn't find any need to explore opportunities in gold equities (GLD)(IAU) when the outlook for gold wasn't entirely bullish. Plus, many gold mining stocks (SGOL) have underperformed the broader markets over the last few years. This is especially true for small-cap miners, which have barely participated in the recent gold rally.
Gold's inability to hold on to a rally over the past two years has created unease with investors. As a result, many investors seem to have offloaded gold equities in favor of broader equities and bonds.