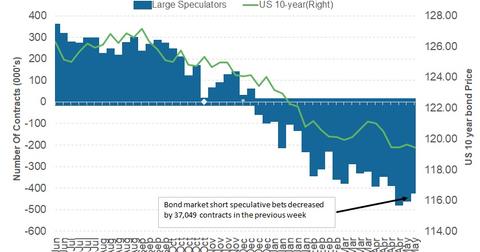 Why Last Week's Events Made the Bond Markets Interesting
By Ricky Cove

Updated
Bond market hints about the future
US bond market yields continue to trend higher, but their overall movement last week was limited. Despite this limited movement, a few takeaways from the week hint at how interesting the bond markets could get in the future. Last week witnessed a record supply of Treasuries that were absorbed without any hiccups, validating the global demand for Treasuries.
We also witnessed a rise in geopolitical tensions along with an inflation miss, which had a limited impact on bond markets. The market's reaction can be interpreted as investors seeing that the Federal Reserve will stick to its tightening stance in the future and that a change in inflation expectations will drive bond yields. The Vanguard Total Bond Market ETF (BND), which tracks the performance of the bond markets, remained flat in the week at $78.93, a rise of 0.06%.
Article continues below advertisement
Bond market performance and speculator positions
For the week that ended on May 11, the ten-year yield (IEF) closed at 3.0%, a rise of 2 basis points. The two-year yield (SHY) closed at 2.5%, a rise of 3 basis points, and the long-term 30-year yield (TLT) closed at 3.1%, a fall of 2 basis points. The change in yields continued to flatten the curve in the previous week.
As per the latest Commitments of Traders report released on May 8 by the Chicago Futures Trading Commission, speculator short positions decreased last week. Total net bearish positions as of May 8 fell by 37,049 contracts from 445,678 contracts to 408,629 contracts. This positioning was before the market's reaction to the Iran deal exit and would have since changed, as the market's reaction to the geopolitical risk event was muted.
The week ahead for bond markets
This week, the economic data are unlikely to have any major impact on the bond (BSV) markets, but geopolitical risks have a better chance of moving yields in either direction. The strength of the US dollar and oil prices could have a positive impact on bond yields this week. The slope of the yield curve remains the most important factor and could flatten further in the coming week.