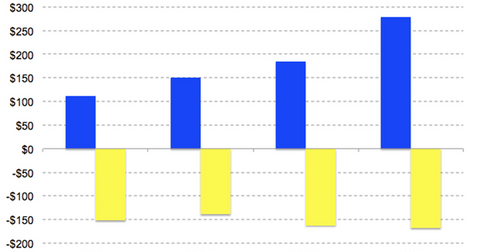 Why Google Is Splurging on Its Smart-Home Unit, Nest
By Sanmit Amin

May. 1 2018, Published 4:07 p.m. ET
We now know Google's Nest's 2017 numbers
Google parent Alphabet (GOOGL) has traditionally not disclosed the details of its streaming segment, YouTube, and Other Bets streams. However, on Monday, April 23, the tech giant disclosed details of one of its Other Bets, its Nest smart-home segment, which joined Google's hardware team earlier this year. Before the company restructured and Alphabet became the holding company in 2015, Google acquired Nest for over $3 billion in 2014.
However, Alphabet restated its financial numbers for 2017 to account for the fact that Nest's revenue and losses will be shifted from the Other Bets stream to Google's revenue.
Article continues below advertisement
Google is spending a lot of money on Nest
Based on the restatement, Nest generated revenue of ~$725 million in 2017, which represents ~60% of its total Other Bets revenue. However, Nest also posted an operating loss of over $620 million, suggesting that the company is spending big to make sure it can compete with Amazon in the smart-home segment.
With Google Home and Nest, the tech giant is taking on Amazon (AMZN), a smart-home pioneer and market leader thanks to its Echo line. Amazon recently completed the acquisition of Ring, which competes with Nest in the smart home device space. One of Alphabet's Other Bets, Waymo, is likely to start making meaningful revenue in future years, particularly with its robo-taxis set to start operations later this year.