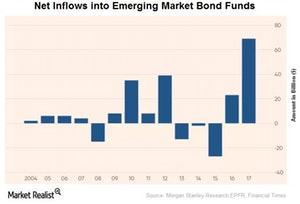 Why Emerging Market Debt Is an Interesting Choice Right Now
By VanEck

May. 9 2018, Published 9:48 a.m. ET
VanEck
SOKOL: Are there any other strategies that investors might want to consider in this environment?
RODILOSSO: Not all of the flows that we've seen this year, for instance, in emerging markets have gone into local currency debt. In fact, it's certainly the case for most investors that comfort with emerging markets is still on the U.S. dollar, or hard currency side. We think emerging markets corporate debt is still an interesting asset class. Why? Because, at any level along the rating scale, an emerging markets issuer tends to have to pay a higher yield than a U.S. issuer. I mention that the economic backdrop globally is good for credit; we think it is as good for emerging markets credit as it is for U.S. or developed Europe credits. The high yield space in emerging markets in particular, on average is a double B rated asset class versus a single B rated asset class for U.S. high yield.
Article continues below advertisement
It is very similar yield and actually slightly lower duration than U.S. high yield. Both are below 4, which is much lower duration than, say, investment grade corporates or Treasuries on average. So we think high yield emerging markets corporates are interesting. We still like U.S. high yield as a diversifier ̶ another carry asset class. But I think investors over the last several years have been more comfortable allocating to U.S. high yield. At this point, they may be wanting to diversify that further, maybe concerned about the risk-reward.
We do like fallen angels within the high yield space still as a way of moving up in credit quality, but still potentially participating in the reasons you go into U.S. high yield, which is generally equity-like returns with lower volatility. The interesting part about the fallen angel asset class as a subset of high yield right now is that is does have a higher allocation to some of the commodity-related asset classes like energy and mining. If you are positive on that sort of global growth outlook, then those higher allocations to those sectors might be something you are comfortable with. If you're not, then you should consider that when you are thinking about fallen angel exposure.
Article continues below advertisement
Market Realist
Other choices in the emerging market debt universe
An uptick in commodity prices and strong fundamentals drove emerging markets' performance in 2017. A report by Reuters in January stated that emerging markets saw inflows of $235 billion, as per data from the Institute of International Finance.
The chart below from the Financial Times stated that emerging market debt (EMAG)(IGEM) saw record net inflows of $68.9 billion last year, compared to its previous record of $39 billion in 2012, as per data from Morgan Stanley and EPFR.
While emerging market local-currency bonds were the talk of the town last year, high-yield corporate bonds also saw some inflows coming in. An article by International Adviser in March stated that high yield bonds saw a roller coaster of inflows and outflows, as per data from Morningstar. While the start of the year saw inflows into high-yield European bonds of 4 billion euros, there were outflows of 2 billion–6 billion Euros in March, July, and November. The inflows in high-yield corporate bonds and local-currency bonds were also supported by low yields offered by developed market bonds. In general, emerging market bonds and high-yield developed market bonds (IHY) can diversify the traditional stock and bond components of a portfolio.
While developed market bonds are susceptible to interest rate risks in the United States, emerging market bonds are not directly exposed to these risks. On the plus side, high-yield corporate bonds offer a higher payout than traditional investment-grade bonds.
Another rare breed in the high yield category is fallen angel bonds (ANGL). These bonds were initially issued as investment-grade but were later downgraded to non–investment-grade. The chart above shows how fallen angel bonds have outperformed since issuers are usually more established companies with better credit quality and higher risk-adjusted returns.