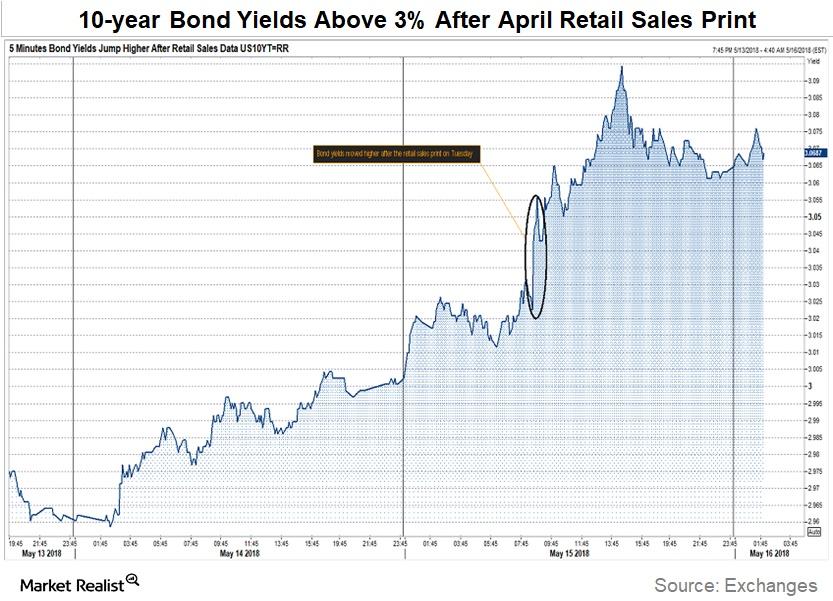 Why Bond Yields Rose on Tuesday
By Ricky Cove

May. 16 2018, Updated 10:25 a.m. ET
Bond yields jumped seven basis points
The April retail sales report was released on May 15, and the surprise reaction to this report was an increase in bond (BND) yields across the board. Though the growth of retail sales was below consensus expectations, the sudden spike in yields was a surprise for the markets. There are numerous ways to explain the spike in yields, and the retail (XRT) sales data only acted as a catalyst to the Treasury (GOVT) sell-off, which began a few hours before the retail sales data was released.
Article continues below advertisement
Weak European data points to a divergence
The sell-off in US Treasuries began even before the US markets (VOO) opened on Tuesday. During the early European session on Tuesday, a series of weaker-than-expected economic data from the European economy increased the chances for a stronger policy divergence between the US and other developed economies. With the US economy showing signs of continued improvements and other developed economies slowing down, chances are that the US could lead the tightening cycle, which could have led to an increase in bond yields on Tuesday.
Risk of higher yields
Until a few weeks ago, the attention of equity markets was on the ten-year bond breaching the 3% mark, but that doesn't seem to be a concern for markets, at least for the time being. A strong first quarter performance by more than 80% of the listed companies helped limit any negative reaction from the equity markets. This could be a short-term respite, as equity markets could catch up with higher yields once the euphoria of the earnings season dies out. The bond (AGG) markets, on the other hand, are likely to remain under pressure as inflation and rate hike expectations remain elevated.