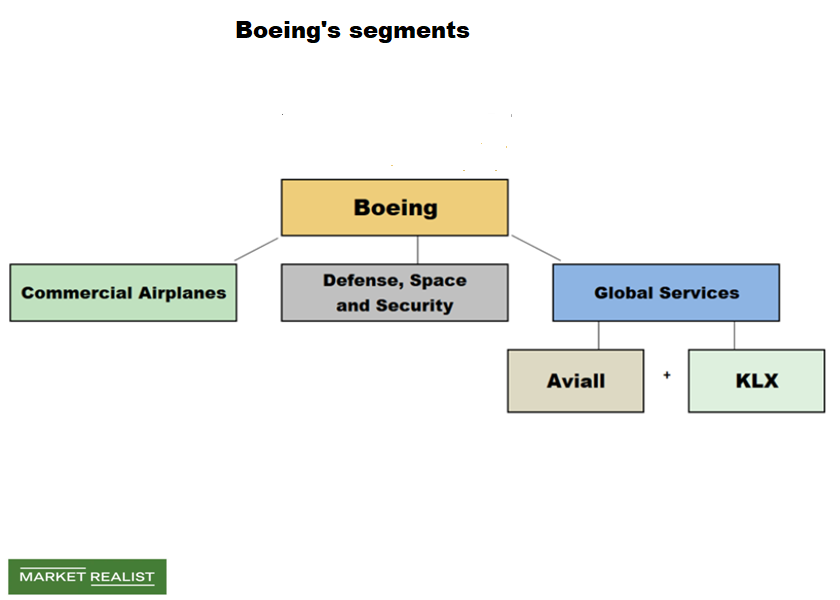 Why Boeing Sought to Acquire KLX's Aerospace Solutions
By Samuel Prince

May. 4 2018, Updated 9:03 a.m. ET
Boeing's new segment
In 2017, Boeing (BA) created a new segment, Boeing Global Services, to access the lucrative aircraft repairs and maintenance market. After-sale aircraft services are a high-margin business. Boeing's CEO, Dennis Muilenburg, expects to build the Global Services segment to reach $50.0 billion in revenues within a decade. He sees this newly created segment as Boeing's biggest market growth opportunity.
Boeing's Global Services segment's president and CEO, Stan Deal, noted, "This acquisition is the next step in our services growth strategy, with a clear opportunity to profitably grow our business and better serve our customers in a $2.6 trillion, 10-year services market."
Article continues below advertisement
Boeing's KLX deal rationale
There is a direct relationship between the demand for consumable products and components and new aircraft production rates, aircraft utilization, airline (DAL) fleet size, and aircraft age. An aircraft has a multidecade life and must be serviced at regular intervals. Almost a million parts are required to build a jetliner, which drives aftermarket demand for these products.
KLX's (KLXI) Aerospace Solutions segment generated ~61.0% of its fiscal 2017 revenues supporting original equipment manufacturers (or OEMs) of commercial and military aircraft. The remaining 39.0% of revenues were generated by aftermarket sales to support the in-service fleet of commercial and military aircraft and aircraft systems.
Amin Khoury, KLX's chairman and CEO, noted, "Our customers have long desired a supplier who could offer essentially 100 percent of their requirements for fasteners, consumables and expendables. The combination of Aviall and KLX Aerospace facilitates the broadest scope of parts and products to support all customer fleet types for the commercial, military and defense and business and general aviation markets."
KLX to integrate with Aviall
Aviall is Boeing's wholly-owned subsidiary operating within the Global Services segment. Aviall provides aircraft components and parts such as wheels and brakes, aviation (LUV) batteries, hardware, and paint-mixing services. Boeing expects the KLX acquisition to have a neutral earnings impact through 2019. It expects the acquisition to be EPS[1. earnings per share] accretive after 2019 with annual cost savings growing to ~$70.0 million by 2021.
In the next article, we'll examine the reasons behind the declines in Boeing and KLX stock after the deal announcement.