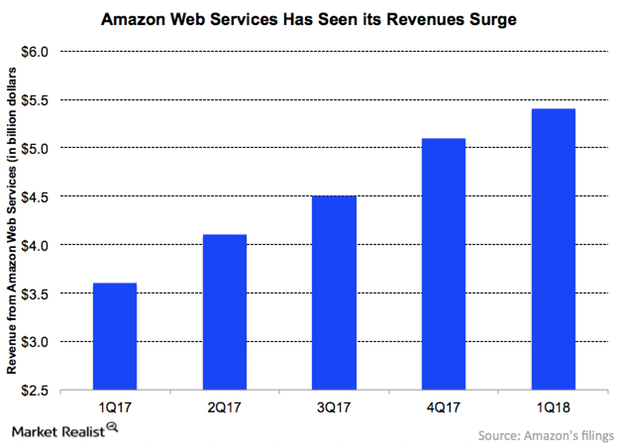 Why Amazon's AWS and Digital Ad Businesses Are Gaining Importance
Amazon's ad business has seen significant growth
Amazon's (AMZN) core business still operates at razor-thin margins. However, its advertising and AWS (Amazon Web Services) businesses, which have wider margins, are growing at a brisk rate.
Amazon's Other segment, which mostly consists of ad revenues, grew 132.0% YoY (year-over-year) to reach $2.0 billion in 1Q18, compared to 60% YoY growth in 4Q17. According to eMarketer, Amazon's ad business is expected to gain market share in the US digital ad business.
Article continues below advertisement
Meanwhile, the company's AWS business surged at a spectacular rate. AWS revenues grew 48.6% to $5.4 billion, comprising ~11.0% of the company's total revenues. This growth boosted the company's net profit, as AWS had an operating margin of 25.7% in 1Q18, compared to the company's operating margin of 3.8% in 1Q18.
Amazon's AWS and ad businesses
The AWS segment's profitability has risen over the years, as its operating margin stood at 20.5% in 3Q15. AWS's 1Q18 operating income rose 57.0% from 1Q17 to reach $1.4 billion. While Microsoft (MSFT) Azure's revenues keep growing at more than 90.0% YoY and have been gaining ground on AWS, the latter's annual growth rate remains well over 40.0%—an impressive spike for its size.
The profitability and the robust growth rate of Amazon's AWS and ad businesses are critical for the company's earnings growth. They allow the company to operate its core business at razor-thin margins, allowing it to remain a step ahead of its competitors.