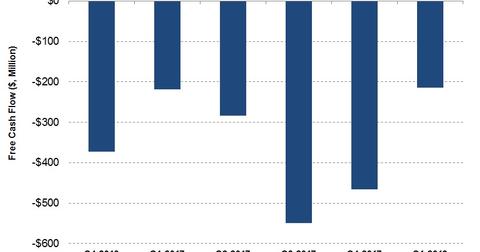 What Are Weatherford International's Capex Plans for 2018?
By Alex Chamberlin

Updated
Weatherford's operating cash flows
Weatherford International's (WFT) cash flow from operating activities (or CFO) in the first quarter was -$185 million compared to -$179 million in Q1 2017.
Its first-quarter revenue increased year-over-year due primarily to an increase of upstream activity in the United States, Argentina, Mexico, Kuwait, Iraq, Russia, and Saudi Arabia. However, adverse changes in working capital led to a decline in CFO in the first quarter. Higher working capital outflow was a result of cash payments for debt interest and cash severance and restructuring costs.
Article continues below advertisement
Weatherford's capex and free cash flow
WFT's capex decreased 28% from Q1 2017. Its lower capex spending in the first quarter reflects its expectations about the contracts it entered, its asset availability, and its expectations about future industry activity levels. Despite lower capex, negative CFO meant WFT's free cash flow (or FCF) continued to be negative in the first quarter. Its FCF was -$214 million compared to -$219 million in Q1 2017. Its FCF has been negative in the past six quarters.
By comparison, ION Geophysical's (IO) FCF was $0.5 million in the first quarter compared to $1.8 million in Q1 2017. The decline resulted in less FCF.
Weatherford's capex plans
Weatherford's 2018 capex budget is $200 million–$250 million compared to $225 million capex in 2017. Its 2018 capex will be spent depending on the type of contracts and anticipated activity in the oil and gas industry.
Next, we'll look at Nabors Industries' (NBR) cash flow and capex.