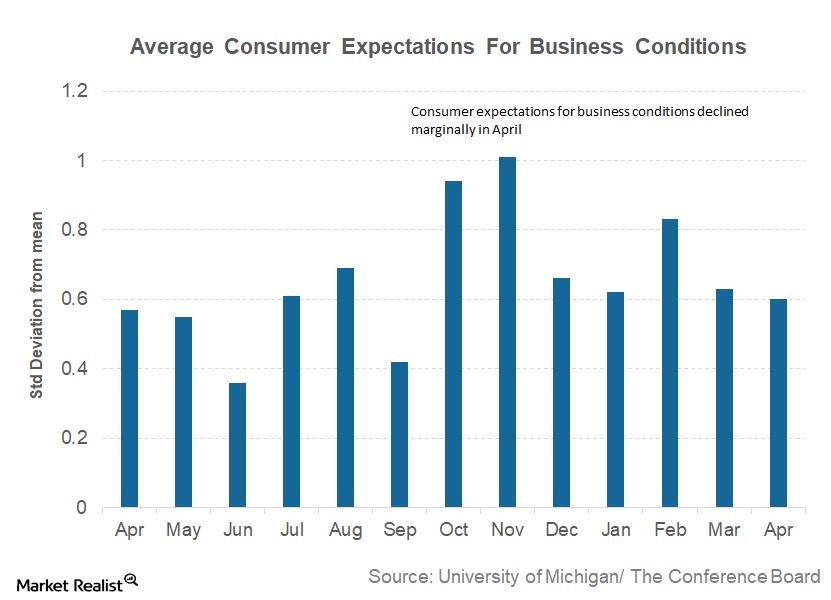 What to Make of the Decline of Consumer Expectations in April
By Ricky Cove

May. 22 2018, Updated 7:32 a.m. ET
Consumer expectations for business conditions
The Conference Board Leading Economic Index (or LEI) has ten constituent indicators, and all but one of these forward-looking indicators is based on expectations. This economic indicator used in the construction of the LEI is based on consumer expectations. This economic indicator is based on two different consumer surveys. One of the surveys is conducted by the University of Michigan and Reuters, and a second survey is conducted by the Conference Board. The first survey collects consumer expectations for 12 months ahead, and the latter records consumer expectations for business conditions six months ahead. The average reading of these two surveys is used in the LEI.
Article continues below advertisement
Recent data
The April Conference Board LEI reported the average consumer expectations for business conditions at 0.60, a minor decline as compared to the revised March reading of 0.63. Consumer expectations for business conditions have been impacted by the increase in trade and geopolitical tensions in recent months. With the US and China (FXI) at the negotiation table, we can expect a rebound in consumer expectations in the next report.
Conclusion
The Conference Board April LEI signals no immediate threat of a recession in the US economy (MDY). The only two forward indicators that had a negative impact on the LEI were building permits (XHB) and equity (VOO) markets. Both these constituent indicators have already rebounded in May, leaving little reason to worry about the US economy. The stellar first-quarter earnings season adds to the optimistic growth story of the US economy, and the positive momentum is likely to take markets forward. Disruption of the trade talks, an oil shock because of increasing crude prices (USO) or increased tensions in the Middle East are risks to this positive outlook. Overall, the leading economic index based on April data is not signaling any changes to the business cycle.