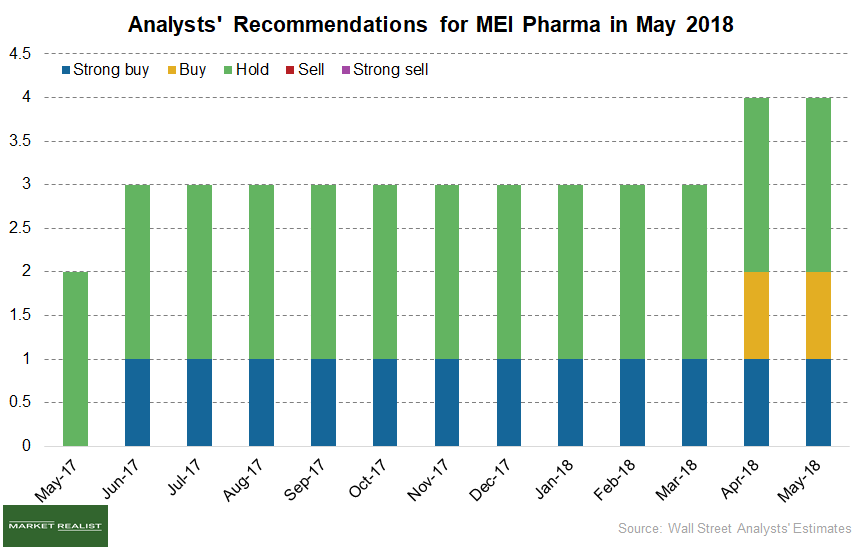 What Led to MEI Pharma Stock's 55% Rise Last Week?
By Daniel Collins

May. 22 2018, Published 8:10 a.m. ET
Stock performance
MEI Pharma (MEIP) saw a 55% rise in its stock price between May 11 and May 18. On May 18, the stock closed at $3.46, a 119% increase from its 52-week low of $1.58 on May 19, 2017. On May 15, 2018, MEI Pharma stock closed at $3.40, a ~34.4% increase over the previous close of $2.53 on May 14, 2018. The stock rose ~58% in the last quarter. 
Article continues below advertisement
About MEI Pharma
Headquartered in San Diego, California, MEI Pharma is focused on the innovation of oncology drugs. Presently, MEI Pharma is conducting different clinical trials with its three molecules in the clinical pipeline stage.
MEI Pharma started its phase two trials with its investigational HDAC inhibitor, pracinostat, for the treatment of myelodysplastic syndrome (or MDS). MEI Pharma anticipates data from stage 1 of the phase 2 dose-optimization trial for MDS to be released in the second quarter. In January 2018, the European Medicines Agency granted pracinostat "Orphan Drug" designation for the treatment of acute myeloid leukemia.
MEI Pharma is conducting a phase one trial with its investigational PI3K delta inhibitor, ME-401, for the treatment of relapsed/refractory follicular lymphoma and chronic lymphoblastic leukemia. MEI Pharma is also conducting early-stage clinical trials to evaluate safety and dose of ME-401 for the treatment of indolent lymphoma and diffuse large B-cell lymphoma.
In January 2018, the US FDA approved the MEI Pharma's investigational new drug application for the initiation of clinical trials with voruciclib. MEI Pharma plans to start phase 1 trials with voruciclib for the evaluation of safety, pharmacokinetics, and effectiveness in the treatment of B-cell malignancies.
Article continues below advertisement
In February 2018, MEI Pharma also presented interim review data that evaluated the safety of investigational ME-344 for the treatment of HER2-negative breast cancer, where the drug demonstrated its safety, which was consistent with prior preclinical data. The success in the clinical trial will likely help MEI Pharma commercialize the drug in the global market.
Analysts' recommendations for MEI Pharma and its peers
Of the four analysts tracking MEI Pharma, one analyst recommended a "strong buy," while another analyst recommended a "buy" rating. Two analysts recommended a "hold" in May 2018. On May 20, MEI Pharma had a consensus 12-month target price of $4.13, which represents a ~19.4% return on investment over the next 12 months.
Of the 26 analysts tracking Gilead Sciences (GILD) in May, ~62% of the analysts recommended some form of a "buy" rating. Of the 25 analysts tracking Vertex Pharmaceuticals (VRTX), 84% of the analysts recommended some form of a "buy" rating, while among the 25 analysts tracking Regeneron Pharmaceuticals (REGN) ~32% of them recommended a "buy" rating.
On May 2018, Gilead Sciences, Vertex Pharmaceuticals, and Regeneron Pharmaceuticals had consensus 12-month target prices of $85.81, $191.39, and $374.16, respectively, which represents ~26.2%, ~21.7%, and ~24.0% upside potential over the next 12 months.