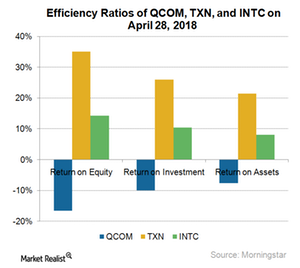 What Efficiency Ratios Say about QCOM, INTC, and TXN
By Puja Tayal

Nov. 20 2020, Updated 1:47 p.m. ET
Efficiency ratios
So far, we've learned what analysts and investors think about major US-based semiconductor stocks Intel (INTC), Qualcomm (QCOM), and Texas Instruments (TXN). Investors and analysts are slightly bullish on Intel, but they're bearish on Qualcomm and neutral on Texas Instruments.
Ignoring the noise in the stock market and looking at the stocks' fundamentals, we'll discover that Qualcomm and Intel aren't priced according to their growth potentials. However, growth alone doesn't reflect the value of a company. Investors also look at the earnings a company delivers against the investments it makes. This comparison shows the ability of a company's management to generate higher returns from lower investments. The management's efficiency is measured using an efficiency ratio.
Article continues below advertisement
Return on investment
ROI (return on investment) measures the income a project or a company earned on a certain amount of investment. Long-term investors and companies use ROI to compare different investment opportunities and identify those that generate the highest value for them.
In the March quarter, Qualcomm had an ROI of -10%, whereas INTC and TXN had positive ROIs of 10.4% and 26%, respectively. TXN has a higher ROI because it earns most of its revenue from basic analog chips, for which the factory investment has already been paid off. TXN had the highest net margin of 35.9% compared to Intel's 26% and Qualcomm's 23% in the March quarter.
Return on equity
Regular shareholders look at a stock's ROE (return on equity) to understand how lucrative the company is and how much profit it can generate from shareholders' capital. ROE also factors in a company's capital structure. If a company issues new shares or debentures convertible into shares, the dilutive impact on the stock reduces its ROE.
In the March quarter, Qualcomm had an ROE of -16.5%, whereas INTC and TXN had positive ROEs of 14.2% and 35%, respectively. There are two ways to increase ROE: either reduce the number of outstanding shares through a stock buyback or increase net income.
ROE is high for TXN because its percentage of shares outstanding is lower than INTC's and QCOM's. Moreover, TXN had earnings per share of $1.35 compared to INTC's $0.87 and QCOM's $0.80 in the March quarter.
Citing Qualcomm's executives, CNBC stated that if Qualcomm fails to acquire NXP Semiconductors (NXPI), it could improve its ROE by initiating a $20 billion–$30 billion buyback program, which could help it buy back up to 25% of its outstanding shares.
In Intel's case, its priority is to invest in business opportunities that could boost its future earnings. Hence, it's focusing on improving its ROE by improving its net income.
Qualcomm's negative efficiency ratios have made investors wary of investing in its stock. Instead, they're looking at investing in stocks with higher efficiency ratios.
Check out all the data we have added to our quote pages. Now you can get a valuation snapshot, earnings and revenue estimates, and historical data as well as dividend info. Take a look!