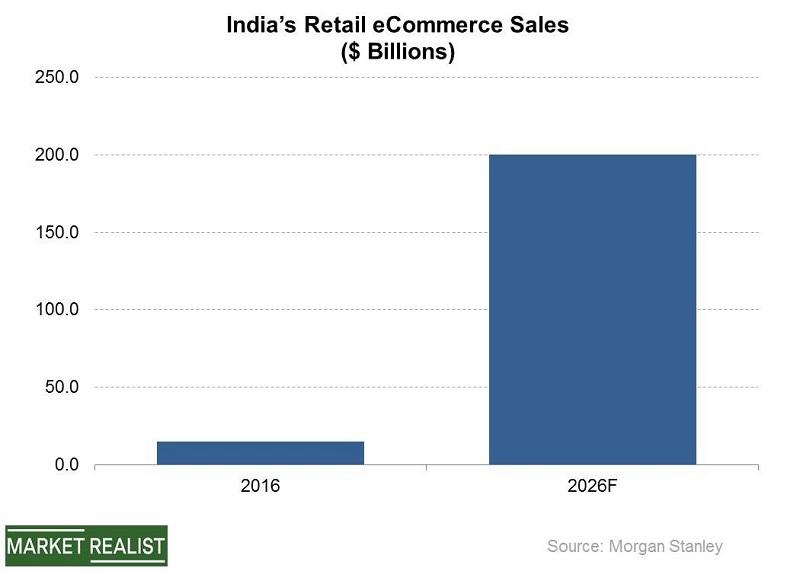 Walmart Triples Amazon's Budget in India Contest
Walmart bets $16 billion in India as Amazon budgets $5.0 billion
Walmart (WMT) took its competition with Amazon (AMZN) to a whole new level earlier this month, forking out $16 billion to buy the majority stake in India's e-commerce giant Flipkart. Amazon had budgeted around $5.0 billion to grow its business in India as it looks to drive more growth in its international division and make the division profitable. Beyond e-commerce, Amazon is also aiming to grow its cloud computing and entertainment businesses in India.
Article continues below advertisement
Only 15% of India's population currently shop online
India presents a massive revenue and profit opportunity for Amazon in the retail sector. India's online retail sales are poised to grow to $200 billion by the end of 2026, according to Morgan Stanley. India's online retail market was estimated at $15 billion in 2016.
Of India's 1.3 billion people, only about 15% currently shop online, according to Gartner. So India's e-commerce sector presents a huge growth opportunity, especially considering that the country's middle-class population is continuing to expand and more people are coming online quickly thanks in part to the rise of budget smartphones.
Microsoft and others poured $1.4 billion into Flipkart
Flipkart is one of Amazon's main competitors in India's e-commerce industry. Last year, Microsoft (MSFT), Tencent (TCEHY), and eBay (EBAY) teamed up to raise $1.4 billion in fresh capital for Flipkart to give it more muscle to take on Amazon. Alibaba (BABA) backs Snapdeal, a challenger to both Amazon and Flipkart in India's e-commerce industry.