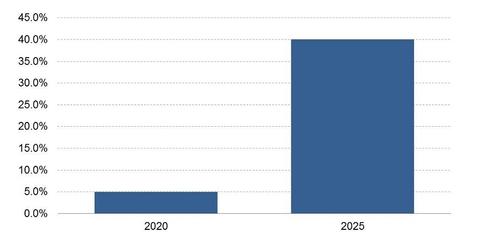 Verizon's Revamped Parental Controls Product
By Ruchi Gupta

Updated
Premium service comes with location tracking
Verizon (VZ) recently upgraded and rebranded its parental controls product. The product that was previously called FamilyBase is now known as Verizon Smart Family, with location tracking functions now available.
Presented as a partner in parenting in today's digital world, Verizon's Smart Family app allows parents to set content filters and manage their children's screen time. A premium version of the app allows parents to know where their children are and alerts them when the kids leave a predefined area.
Article continues below advertisement
Premium service costs $9.99 per month
Verizon charges $4.99 per month for the basic Smart Family app. The premium version, which includes location tracking, costs $9.99 per month. The revamped Smart Family app could generate incremental revenues for Verizon, potentially allowing the company to raise more funds for its network investment. Verizon, AT&T (T), T-Mobile (TMUS), and Sprint (S) are making network investments as part of the transition to 5G.
SNS Research estimates that 5G-related investments could consume up to 40.0% of mobile operators' annual capital expenditures in 2025, a marked increase from the estimate of 5.0% in 2020.
Boosting brand reputation
Giving parents more tools and options to manage their children's online activities and screen time could also help Verizon's reputation as a company that cares about children's welfare. A group of shareholders wrote to Apple in January, urging the company to do something about children's use of its products. The shareholders argued that curbing children's excessive use of products such as the iPhone or iPad could boost Apple's reputation and increase demand for its products.
No American wireless company made it to the top ten of this year's Harris Poll Reputation Quotient list. The poll ranks companies based on consumer perception of their brand reputations. Amazon (AMZN) topped the list for the third consecutive year in 2018.