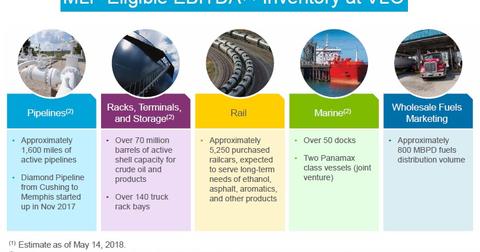 Valero: Expanding Its Logistics Asset Base
By Maitali Ramkumar

May. 22 2018, Updated 6:33 a.m. ET
Logistics growth
Valero Energy (VLO) is focused on growing its Logistics segment. The company is expanding its logistics asset base via acquisitions, joint ventures, dropdowns, and organic growth. Let's review some of these activities.
Valero has several ongoing activities in the Logistics segment that focus on expanding its asset base. Let's review some of the recent activities here. Valero has formed a joint venture with Magellan Midstream Partners (MMP), which focuses on the expansion and development of a marine facility in Pasadena, Texas. This should increase VLO's capabilities for biofuels blending, reduce secondary costs, and provide an opportunity for third-party revenues. 
VLO signed an agreement with a subsidiary of MMP to construct a refined product pipeline from Texas to Houston. This would strengthen VLO's pipeline network and raise its terminal capacity.
Article continues below advertisement
VLO's Diamond Pipeline projects, which started toward the end of the previous year, witnessed a rise in throughput in the first quarter. The Diamond Pipeline project, which transports crude oil from Cushing to Memphis, is expected to improve Valero's supply flexibility and its crude blend quality. VLO's cogeneration projects in Wilmington and Pembroke are expected to reduce costs for the company.
Valero plans to expand Valero Energy Partners (VLP), its logistics master limited partnership, with dropdowns. VLO has an array of logistics assets that generate ~$1.0 billion of EBITDA, which could be dropped down to expand VLP. The chart above gives you an overall view of Valero's logistics assets that could be potential dropdown candidates.
Valero's acquisition spree
Valero has been using the acquisition route to expand its logistics asset base. Recently, Valero has acquired Pure Biofuels del Peru (or PB), which is the third-largest fuel importer in Peru. PB has terminals in Callao and Paita with a total product storage capacity of ~1.0 million barrels, which could be expanded further. This provides a strategic advantage for VLO's Gulf Coast refineries in terms of proximity, scale, and flexibility. This also provides an easy and firm outlet for VLO's refineries' output.
Earlier in the year, VLO agreed to acquire the SemLogistics Milford Haven fuels storage facility in Wales. The facility, which has 8.5 million barrels of storage capacity, is beneficial for VLO's Pembroke refinery in the UK. 
Valero reached an agreement with Sunrise Pipeline LLC to attain ownership of a pipeline with the capacity of 100,000 bpd (barrels per day). This pipeline, which is expected to connect Wichita Falls and Midland, Texas, is anticipated to be completed by the first quarter of 2019.
Overall…
Valero is expanding its logistics base to support its refining operations and create a steady earnings stream. This could create a diversified earnings model for VLO, which would be helpful in partially shielding the company from refining earnings volatility. This is a favorable development for a downstream company like VLO, which has significant refining earnings.