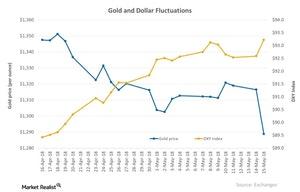 US Dollar at a 5-Month High, Gold at 5-Month Low
US dollar at a five-month high
Besides overall market volatility, the most important determinant of precious metal prices, especially gold's (IAU) (SLV), is the US dollar. As gold prices reached a five-month low, the US dollar reached a five-month high against a basket of six major world currencies. The US dollar (UUP), as represented by the DXY Currency Index, has risen ~3.6% over the last month.
Reduced US-China tensions may have supported the US dollar. A stronger dollar is detrimental to precious metal prices as they are dollar denominated. A higher dollar suggests that investors from other countries have to spend more of their home currency to buy dollar-based assets, impacting gold's and other precious metals' demand.
Article continues below advertisement
Inverse movement
Much of the US dollar's movement could also be determined by the Fed's upcoming meeting. Higher interest rates could also support the US dollar and be adverse for precious metals.
This year, the correlation between gold and the dollar has been -0.81, indicating that ~81.0% of the time, gold and the dollar moved in opposite directions. The rest of the time, gold was uncorrelated with the dollar. Mining companies that rose on Monday despite the dollar surge and gold decline included Pan American Silver (PAAS), Hecla Mining (HL), IAMGOLD (IAG), and Franco-Nevada (FNV), which rose 2.3%, 0.51%, 0.17%, and 0.57%, respectively.