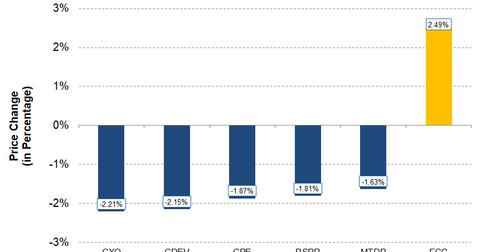 Upstream Losses: CXO, CDEV, CPE, RSPP, and MTDR
By Nicholas Chapman

May. 18 2018, Published 12:21 p.m. ET
Upstream losses
In this part, we'll discuss the top percentage losses from the oil and gas production or upstream sector in the US for the current week starting on May 14. To compile the list of the top upstream losses, we only used oil and gas producers with market capitalizations greater than $100 million and an average trading volume greater than 100,000 shares last week.
Article continues below advertisement
Concho Resources is the top loss
In the week starting on May 14, Concho Resources (CXO) decreased from $152.70 to $149.33—a decrease of more than 2.2%. While there isn't any specific news on the stock this week, Concho Resources has been declining since last Thursday. Since then, the company has declined ~6%.
On May 2, Concho Resources made an all-time high of $163.11. Currently, Concho Resources is trading below its 50-day moving average and above its 200-day moving average. As of May 14, the company is trading at $149.33, while its 50-day and 200-day moving averages are $150.84 and $140.44, respectively.
On the list of the top losses, Concho Resources is followed by Centennial Resource Development (CDEV), Callon Petroleum (CPE), RSP Permian (RSPP), and Matador Resources (MTDR). They have fallen ~2.2%, ~1.9%, ~1.8%, and ~1.6%, respectively.
Overall, the First Trust Natural Gas ETF (FCG), which represents an index of energy stocks that derive a substantial portion of their revenues from natural gas exploration and production, has risen ~2.5% this week.