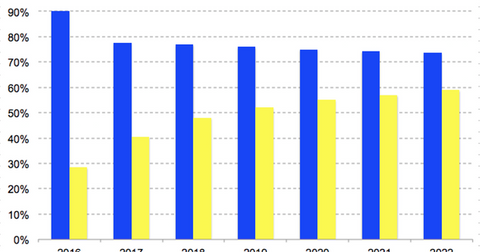 Uber Is Losing US Market Share to Lyft
By Sanmit Amin

Updated
Uber has been losing US market share
According to eMarketer, Uber's growth suffered due to a series of scandals in 2017, allowing US rival Lyft to gain market share. The research company has lowered its forecasts for Uber's growth for the next three years, as it faces stiff competition from Lyft in US and international markets.
eMarketer estimates that 48 million American adults will use the ride-hailing app at least once this year, up 18% from 2017 but well below the research company's previous projection of 51.4 million. It expects Uber to remain the market leader. Lyft is backed by Alphabet's (GOOG) Google, whose Waymo also competes with Uber in the autonomous vehicle space.
Article continues below advertisement
Uber could still lead in 2022, though by a smaller margin
As shown in the graph above, eMarketer estimates that Uber will keep losing market share over the next few years and that Lyft will continue gaining ground. This year, Uber is expected to capture 77.0% of the ride-hailing market, and Lyft is expected to take 48.0%. In 2022, the research company predicts that those numbers will be 73.7% and 59.0%, respectively. Since many users have both apps, the companies' market shares overlap.
Uber has been trying to consolidate its expenses as it hopes to go public next year. The company has folded its loss-making operations in Asia, and most recently in Southeast Asia, where it sold its operations to Grab.