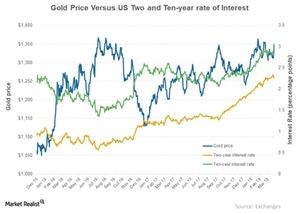 Treasury Yields Hit 3% and Gold Fell: Coincidence?
Treasury yields touch 3%
In addition to the US dollar playing on precious metals, US interest rates and the Federal Reserve's decisions have also historically had a substantial impact on these safe havens. The US bond yields have surged over the last few days. The yields reached the 3% level on Tuesday for the first time in the last four years.
The rising interest rates may be a concern for equities, as companies face a higher borrowing cost. The growth may be at its peak and face a downturn hereafter. The below chart shows the relationship of gold (GLD) to the US two-year and ten-year interest rates (SHY) (IEF). Although the inverse relationship between the two is not very exact, they tend to deviate from each other. Over the last six months, however, interest rates and gold have both trended upward.
Article continues below advertisement
Monetary tightening
The Fed is expected to increase interest rates a couple of times in the current year, which is a further negative for precious metals, as they are non-yield-bearing assets. The aggressive monetary policy tightening could lead to a decline in precious metals since precious metals do not pay any intermediary cash flows. They would likely have an adverse reaction to the hike in interest rates.
Some of the mining stocks that fell along with gold on Wednesday include IAMGOLD (IAG), AngloGold Ashanti (AU), Franco-Nevada (FNV), and Agnico-Eagle Mines (AEM). These stocks fell 1.3%, 1.2%, 0.85%, and 0.64%, respectively.